Interfaith Celebration provides inclusive space for religious understanding
"What is a belief or practice from your faith that you treasure?"
This question was posed last Saturday at the Interfaith Celebration hosted by the Washington University Interfaith Alliance (WUIA). The celebration, held in Tisch Commons in the Danforth University Center, served as part of Interfaith Week, a seven-day stream of events and services sponsored by Washington University's Office for Religious, Spiritual and Ethical Life.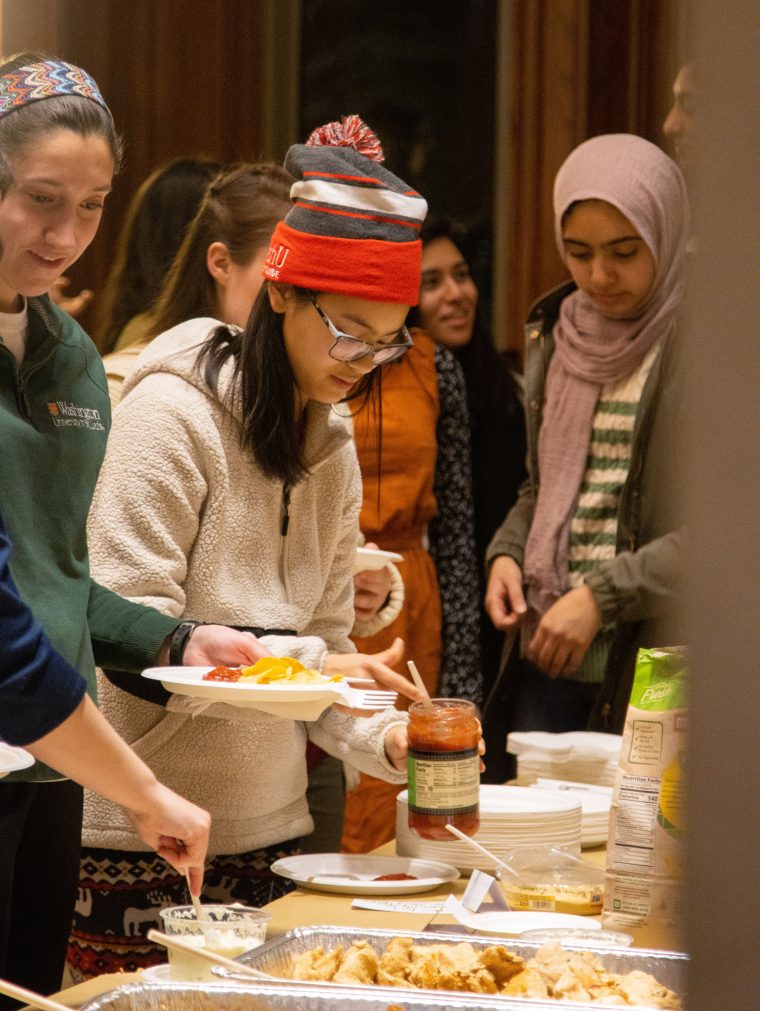 Photo by Curran Neenan
Sophomore co-presidents Maria Schmeer and Julia Arbanas took to the mic to welcome everybody at the start of the evening celebration as well as to promote some of the upcoming Interfaith Week highlights. They ended by inviting attendees to get food—and get conversing.
The "celebration" was designed to commemorate the coming together of faiths in a communal space over a spread of samosas, chicken, meatballs, hummus, cake and more.
When planning these types of events, special attention goes towards accommodating dietary restrictions, especially for those keeping Kosher or eating Halal.
"We want to make sure that everybody who can eat, can eat," Schmeer said.
As attendees filtered into line for food, we were notified that every plate had a number on the bottom of it. The plate numbers corresponded to table numbers, and, as you could probably guess from here, we sat down dispersed based on our randomly assigned number. The numbering provided a fun and effective means of getting people to branch out beyond the friends they probably arrived with.
I ended up at table two and was soon immersed in conversation about favorite holidays and common misconceptions. There existed some overlap among the faith backgrounds represented at our table, but each of us brought forth a unique perspective.
A central topic of conversation throughout the evening was the diversity of various faith groups, but also diversity within faith groups.
"Something I wish more people knew about Judaism is that there's a wide variety in the ways that people practice it, and not everybody has exactly the same beliefs and the same traditions and the same thoughts on how we should interpret the Torah," sophomore Meredith Levin said.
Finding intersectionality between beliefs and practices stands as a key goal of interfaith efforts, but common ground can be achieved while still recognizing complexity on a deeper scale. As outsiders looking in, we should make a conscious effort to understand the intricacies of other faiths the same way we would want others to understand those of ours.
Aside from the introduction on behalf of WUIA at the beginning, the celebration didn't have a formal program per se. Tables had discussion questions on them to drive discussion, but the time and space were ultimately ours to use as we liked.
First-year graduate student Erik Strange spoke briefly on his experience, explaining that it was interesting to look at the role of faith from an undergraduate level versus a graduate level. By chance, Strange ended up at a table of attendees who all identified as Christian. But this coincidence did not prevent the cultivation of meaningful dialogue.
"Sometimes in grad school I can be so stovepiped over and to my own faith group or my own school, so it's nice to just meet a different population of people and see how they're interacting with their faith," Strange said.
It goes back to the idea that we have so much to learn from one another. Attendees of the Interfaith Celebration were clearly there because they consider interfaith relations worthwhile.
For many, it's as simple as having a designated space for discourse. Senior Janelle McAfee is no stranger to Interfaith Week; over the years, she has found great value in the dialogues that emerge.
"We've had some cool events where we get to not only observe people doing their own spiritual practices, like Muslims praying, but also just get to talk about how our lives intertwine in the Wash. U. community," she said.
Sophomore Abdallah Belhadj serves as treasurer on the WUIA executive board, and he shared how rewarding of an experience it has been.
"Interfaith events represent a collaborative effort as well as a convergence of all these different faiths and traditions, bringing light to the diversity here at Wash. U. that isn't always emphasized," he said.
This word, diversity, came up again and again. Efforts like Interfaith Week place their entire focus on exploring what our campus has to offer, gaining insight on various values and beliefs and how they shape our respective identities.
"Religion is such an important part of everyone's lives," sophomore Lydia Roesler said. "It's the way we view the world, and in order to really connect as people, we first must connect through religion, and through understanding each other's religion."