Parents and students respond to WU's updated Thanksgiving policy, call for increased transparency
Amid rising COVID-19 cases on campus and in the St. Louis region, many students, parents and other community members have expressed their approval of Washington University's decision to return to its original Thanksgiving travel restrictions.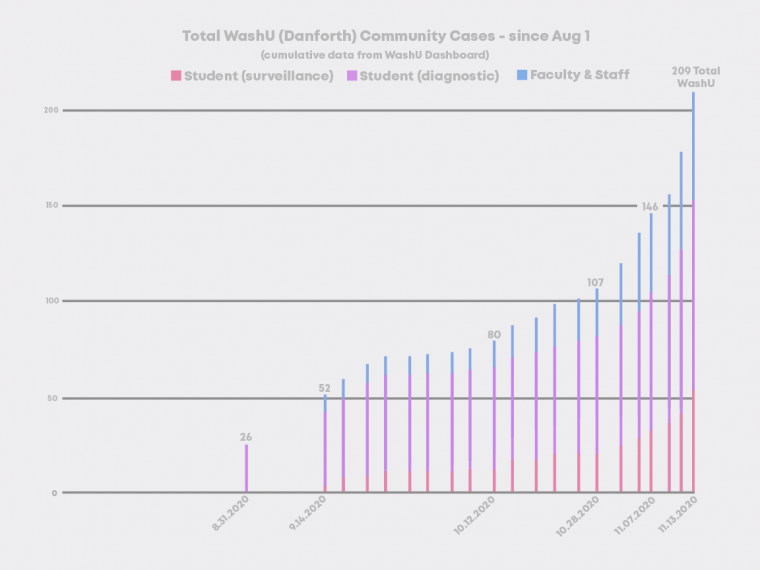 Mia Goldberg | Student Life
The University had originally stated that all students traveling outside the St. Louis region during Thanksgiving break would not be allowed to return to campus, but later changed the policy to "strongly recommending" that students who travel for Thanksgiving remain at home. However, the University returned to its original policy on Nov. 12, requiring that students who travel more than 60 miles outside of the St. Louis region stay home for the remainder of the semester.
"We've been closely working with our own infectious disease and public health experts at the University and tracking regional cases and regional guidance, and it became clear as we moved into November that the case loads were beginning to become alarmingly high," Vice Chancellor of Student Affairs Rob Wild said. "We arrived at the decision last week that for the safety of our community, we needed to go back to our original guidance."
Freshman Yael Shaw said that when the University changed its position in September, allowing students to return to campus after Thanksgiving break, she thought it was "kind of silly."
"We knew the numbers were going up and we knew that Halloween would spike numbers dramatically," Shaw said.
Parent Arturo Cazares said that the loosening of restrictions in September prompted many parents to advocate for more effective COVID-19 policies. The Facebook group "WashU Parents – Covid-19 info exchange," which now includes more than a thousand parents, served as a platform for parents to organize. Individual parents sent personalized feedback to the administration and the parents of freshmen created a petition. Cazares, along with two other parents, wrote an email to the senior administration on behalf of parents and later met with administrators.
According to Wild, however, an "equally vocal number of parents" thought their children could safely go home for Thanksgiving break and then return to campus.
"It would be impossible for the University to make decisions based on parent feedback because the parent feedback about Thanksgiving is as mixed…There is not a consensus," Wild said. "We're making decisions based on what we think is the right thing to do for the safety and the health of our community."
Parent Kate Tullis, while happy that the University returned to its original decision, said she was concerned that students who travel less than 60 miles outside the St. Louis region during Thanksgiving break can still return to campus.
"It's still a student getting outside of their pod or their Wash. U. community connections," Tullis said. "I understand the University might not have been able to enforce that, and maybe there's some legal reasons, but scientifically, there's no difference."
Residential Advisor junior Fadel Alkilani, who was given the choice of whether or not to remain on campus after Thanksgiving, said that from his perspective, the 60-mile limit seemed arbitrary.
"There had to have been some radius to implement, but it probably should have been smaller, something more like in the range of 10 miles or so," Alkilani said. "60 miles extends all the way out, outside of the entirety of St. Louis suburbia, so I'm not really sure why they chose that number."
Wild said that the administration arrived at 60 miles based on the parameter used in the spring when determining travel restrictions for faculty and staff.
"We went back and looked at the guidance from the spring and agreed that that was still the right guidance," Wild said.
While community members believe that the University was right to return to its original decision, they remain concerned about rising COVID-19 cases as the Thanksgiving holiday approaches.
According to the Danforth Campus COVID-19 Dashboard, there are 37 active cases among undergraduate students and a total of 73 active cases including graduate students, faculty and staff as of Nov. 13, marking a sharp increase compared to previous weeks.
This trend follows spiking regional and state-wide positivity rates. As of Nov. 15, St. Louis County had a 16.9% positivity rate, and on Nov. 12, Missouri's 7-day positivity rate reached 40.8%, the highest it had ever been.
"We first noticed the growth with the staff and faculty as early as mid-October. It wasn't radical growth, but it was growing faster than it had been in the past. But by October 30, the student cases started to really grow and they're growing faster now, so that really is a concern," Cazares said. "We are hopeful that the University is not going to be slow about implementing measures to limit the spread to protect the community."
On Nov. 12, all in-person Thanksgiving programming was switched to virtual programming, and on Nov. 16, the University closed all Dining Services seating in response to new St. Louis County restrictions.
Cazares said that while the University has created a community that generally adheres to good safety practices, such as masking and social distancing, a more comprehensive surveillance testing is necessary. Cazares thinks the University should expand undergraduate surveillance testing to twice per week and begin routinely testing graduate students, staff and faculty.
"That would identify more asymptomatic cases before they can spread," Cazares said. "We're seeing clusters growing that could become an outbreak."
Tullis agreed that students should be tested more frequently as cases rise before Thanksgiving and wanted the University to provide more transparency in general and on the dashboard.
"I think they could be more forthcoming with how they arrive at their decisions," Tullis said. "They could also tell us on the dashboard how many tests are done each week, how many students are in quarantine…Those numbers are important."
"If the community has better information with context, it can build trust," Cazares added. "This will mitigate anxiety and most in the community will pull together to protect themselves and their community."