'Rising above': One year in, RIZE provides important platform
RIZE Magazine first hit campus almost one year ago, providing a unique platform for Black Washington University students to share their writing, illustrations, photography and other forms of art with the University community.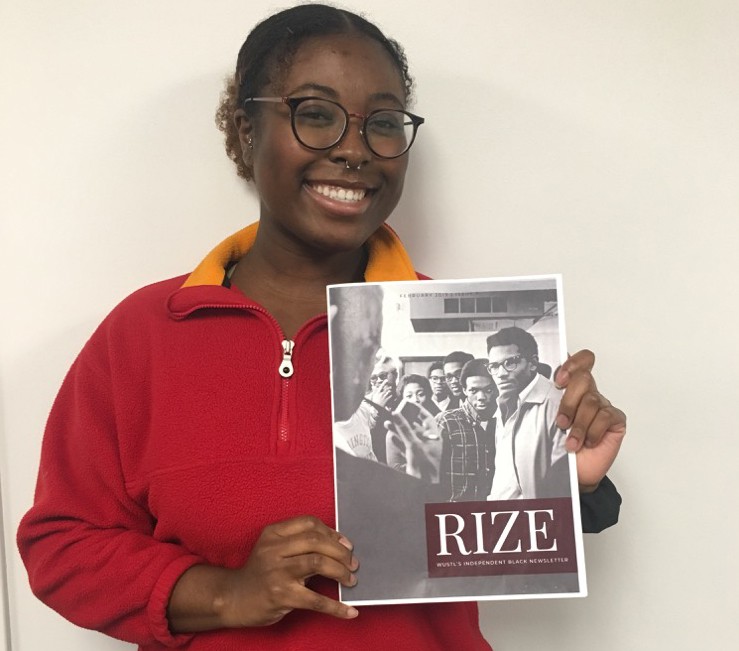 Photo by Jaden Satenstein
Student Life sat down with RIZE Editor-in-Chief and then-sophomore Efua Osei in February 2019 to discuss the publication of the first issue on Feb. 1. One year later, Osei expressed excitement over how the organization has grown.
"Since the first issue, it's changed a whole lot, just because there's way more people on staff," Osei said. "We have way more writers…and we have an actual internal operations team. We have a secretary, a treasurer, we have…publicity and marketing. So we have people that are actually working on different things."
In addition to the expansion of the RIZE staff, the publication has undergone a more external change. While the first issue was referred to as "WUSTL's Independent Black Newsletter," its two issues since, published April 4 and Nov. 9, 2019, use the term "magazine" rather than "newsletter."
"This is really a way to showcase the Black experience, Black art on campus," RIZE Design Editor junior Ariel Ashie said. "And so you'll see illustrations, you'll see art, you'll see poetry. And so we thought that the best way to represent that wasn't necessarily true to the medium of a newsletter."
Osei noted that the transition to a magazine format also stemmed from a decision to publish once a semester rather than multiple times as was originally intended in order to give staffers more time to dedicate to each issue.
"The idea with a newspaper, a newsletter, was that it came much, much more frequently," Osei said. "And after we were like, 'Just because it comes less frequently doesn't mean it's less of a newsletter,' but also we were taking on the format where we were implementing a lot of intentional and really specific and cool design ideas, so we wanted to make it a little bit more than a newsletter."
Embracing the term "magazine" has also inspired the group to explore the Black student experience through a variety of artistic mediums and base future issues on coherent themes.
"In our past issues, the articles and submissions and everything are kind of just all over the place just because…we just started so we don't really know what we're doing," RIZE Writing Editor junior CeCe Heard said. "Now we're kind of trying to orient things around a theme for each magazine so things can be more put together. And so in terms of writing, we are not exactly sure how it's going to look yet, but just like—we're coming up with a theme and then kind of pitching stories centered around that."
Osei hopes to release RIZE's fourth issue in print and on issuu.com in mid-March. Last year, she expressed to Student Life the importance of developing and funding RIZE independent of Student Union in order to ensure that its words remain "unfiltered" by the University. Though not run through the Center for Diversity and Inclusion (CDI), RIZE received funding from the CDI to print its first two issues. The group then worked with the Residential Life Office's Student Leadership Coordinator for Residence Education Tyler Priest and created a GoFundMe to print 75 copies of the November 2019 issue.
"We are open to donations from people that may come within the University, but it's not produced through anyone through the University," Osei said. "So not produced through SU, not produced through any office, like the CDI, it's not produced through any Wash. U. entity, but it is created by Wash. U. students and often donated to by Wash. U. donors."
Looking toward future issues, RIZE staff members are focused on ensuring that the magazine lives on long after they eventually leave the University. Some of their ideas to further develop it include adding more types of content that are consistent across different issues, such as recurring spotlights on Black students, faculty and alumni, connecting with other St. Louis universities, hosting release events and selling RIZE merch.
"Honestly, it's just been a really cool year, just to see it grow," Osei said. "I can't believe it's been a year. It's cool to see how many people look forward to it, how many people are submitting to the magazine, people that I didn't even know are writers or artists, to see them and their art reflected in the magazine, and just see how it at times can bring the Wash. U. Black community together. It's really touching to me, because that's really all I wanted to do, is just make something that everyone can together bond over, something that we can get excited about together."
Heard, who first proposed the name "RIZE," expressed that, one year later, the magazine's title continues to feel relevant.
"I think it's really encompassing of everything that we're trying to do," Heard said. "Because so much of Blackness, I feel like, is very marked in that there's a stereotype of Blackness or this idea that Blackness can only be one thing, that it's monolithic. And so, 'RIZE' is kind of that and creating the space where Black people can just express whatever they're feeling, providing them with this platform to be connected with each other and kind of figure out what's going on in everyone's heads, what's happening among us."