St. Louis in focus: 'Little Bosnia'
In South City, a large kiosk-shaped fountain resides in the center of a small park at the "X" shaped intersection of Gravois Ave and Morganford Road. This monument, an Ottoman-style sebilj donated to St. Louis in 2013, is a replica of the famous sebilj in Sarajevo, Bosnia, and a reminder of home for the Bosnians residing in St. Louis today.
This intersection in the Bevo Mill neighborhood has been the heart of the Bosnian community in St. Louis for over two decades now. Bosnian restaurants, coffee shops and even travel and insurance agencies line the street, with signs and flyers written in both English and Bosnian, earning the area the nickname of "Little Bosnia."
Illustration by Josh Zucker
History of Bosnians in STL
The Bosnian population in St. Louis, estimated at around 60,000, is the largest Bosnian community outside of Bosnia. This is no coincidence—the majority of these individuals came to St. Louis as refugees fleeing the war and genocide in Bosnia in the early '90s and have remained in the city ever since.
The Bosnian War began in 1992 during the dissolution of the former Yugoslavia, when the Bosnian Serb ethnic group fought against the creation of a Bosnia and Herzegovina independent state. Over the next few years, Bosnian Serb forces, backed by the Serb-dominated Yugoslav military, ethnically cleansed the Croatian and Muslim Bosnian citizens, which resulted in the deaths of 100,000 individuals and the forced displacement of 1.8 million people.
The State Department allowed the survivors of the genocide in Bosnia, many of whom had faced torture in concentration camps and whose relatives had been brutally murdered, to emigrate to the United States. Benjamin Moore, the director of the Bosnian Memory Project at Fontbonne University, explains that most of the refugees did not choose to resettle in St. Louis.
"It was forced displacement. I think it was a wise decision to send Bosnians to St. Louis, a decision made in our state department under Madeleine Albright in the 1990s, but it was not voluntary immigration," Moore said.
Adna Karamehic-Oates, a Bosnian immigrant and associate director of the Bosnian Memory Project, says that the majority of Bosnians residing in St. Louis have relatives and friends who perished from the war, yet their bodies still remain to be found.
"My brother-in-law and his brothers came to the United States as a refugees," Karamehic-Oates said. "One of their brothers was killed in the conflict, and his remains were found only a few years ago. Many people like that live in St. Louis, and you wouldn't be able to tell that from meeting them for the first time because it seems like their lives are so normal."
"We tend to see the more visible side of the community, which is the more successful side of the community. And so, we're accustomed to hearing reports in the media of the successes of Bosnians who have come here and made a new life, and that certainly is true for many Bosnians," Moore said. "But there's an also less visible side of the community that's still having difficulties, and that's in some way because of the effects of trauma that still play out in that community."
Remembering the war
From the hundreds of interviews that Moore and his colleagues conducted as a part of the Bosnian Memory Project, Moore found that Bosnian refugees did not have time to deal with any trauma they experienced in their home country when they came to St. Louis.
"When they first arrived in St. Louis, [they] were trying to survive and then trying to help their children advance. So, they couldn't deal with [their mental health]. There are people now who are still in need of counseling and who are seeking counseling for the first time, even though we're a generation out from the war and genocide in Bosnia."
"It's important to recognize that the effects of what has happened never really go away. We've seen from the oral histories that we've done that a lot of people still suffer from PTSD, from what happened, what they saw," Karamehic-Oates said. "And they very often don't talk to their children about those things. So, we have this population of Bosnian-Americans who are growing up, kids who were either born in Bosnia and came here very young or were born in the United States when their parents arrived here, who frequently don't know what happened to their parents."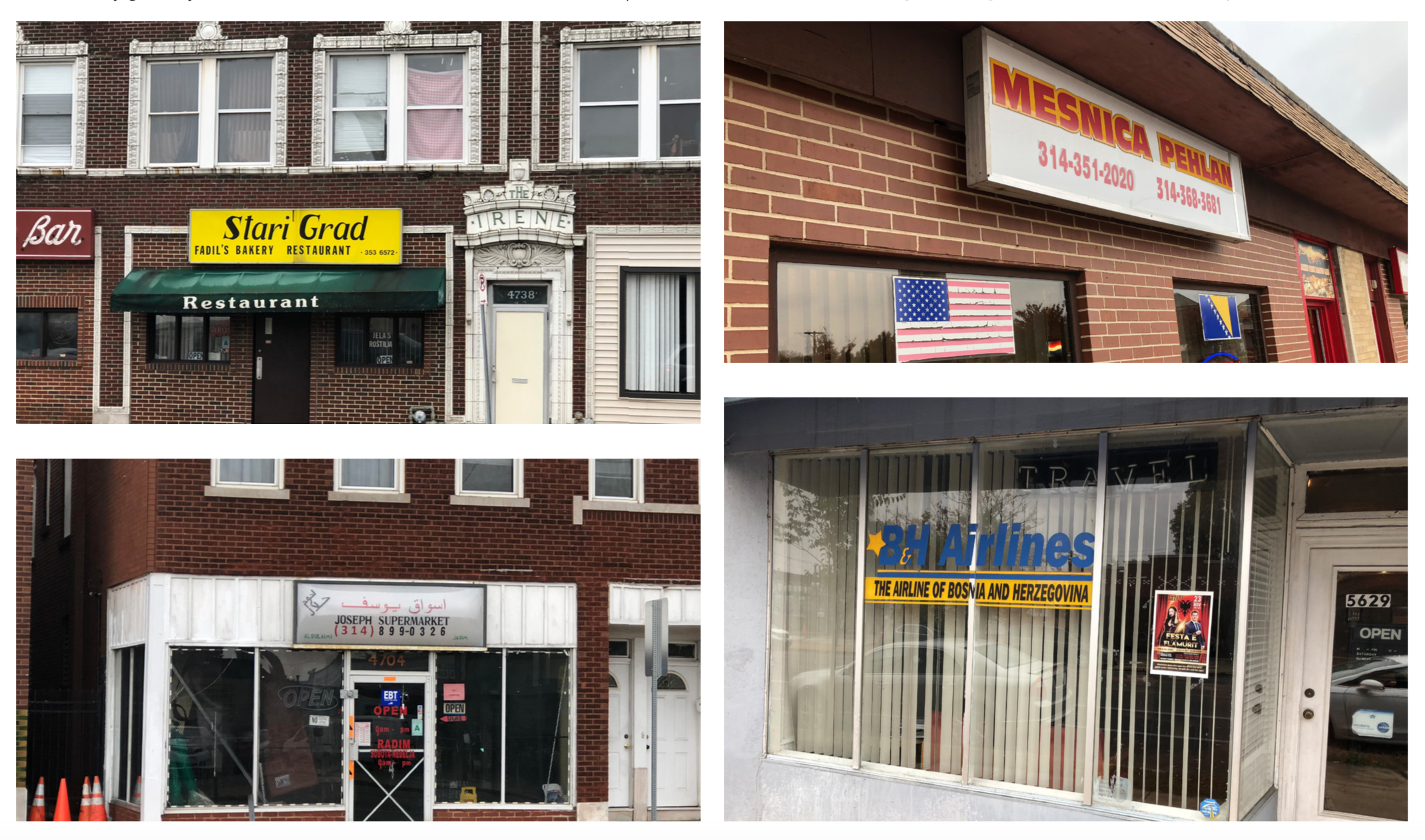 Preserving the memory of Bosnia
According to Moore, the majority of the Bosnian refugees living in St. Louis cannot return to their homes in Bosnia, as the climate is still not safe.
"Many, in fact, [now] go back temporarily to visit, but in many cases, their homes were completely destroyed," Moore said.
Because they cannot return to Bosnia but wanted to find a way to maintain their heritage and pass along their culture to younger generations, the Bosnian community in St. Louis recreated their favorite parts of their home in the neighborhood of Bevo Mill.
Restaurants and cafes like J's Pitaria, Zlatne Kapi and Cafe Milano all serve Bosnian food, and the owners and patrons speak to each other in rapid Bosnian.
"J's Pitaria is one of the most popular places for the Bosnian community," Karamehic-Oates said. "You can always see people coming in and out, and [you can] really get a feel for the [Bosnian] culture."
Many of the other businesses in the area are Bosnian-run as well, such as the First Bosnian Insurance Agency, the Bosnian Chamber of Commerce, a travel agency that primarily works with a Bosnian airline, a Bosnian-American newspaper and a Bosnian home loan company.
"The Bosnian community has revitalized some of South City. I know that authorities in St. Louis have appreciated that they've opened business in the Bevo Mill area that were run-down and full of crime [before the Bosnian refugees arrived]," Karamehic-Oates said. "It's been a positive relationship, I think, that the city of St. Louis has had with Bosnians as an immigrant-refugee group."
Most of the Bosnian community have become citizens and permanent residents of St. Louis; so, they are no longer "refugees" in the legal sense. However, Moore stresses that these individuals should still be called refugees.
"I always make a distinction because in a moral sense, the history of the community is one of having been refugees; and so, I think that is the accurate descriptive term, even though the actual legal status has changed for most Bosnians," Moore said.
Although many of the Bosnian refugees who moved to the area in the '90s are now moving to suburbs in south St. Louis County or Jefferson County, the community is still strong and resilient, according to Karamehic-Oates.
"I've learned that the Bosnians who have gone through the war, the survivors who have seen neighbors turn on them, commit atrocities against them, are still extremely resilient. They're extremely hard workers," Karamehic-Oates said. "They're still hopeful about relationships and being good neighbors and so on. They still come out hopeful about life."