Matt's Musings: Morons are ruining VAR in the Premier League
Melon—n. an idiot, "You're a proper melon."
Muppet—n. a right useless halfwit, "Piss off Tony Abbott, you muppet."
Thanks to Urban Dictionary for these enlightening definitions. I may have had to alter one a slight bit for language purposes.
Either of these words, or one of the many other British terms used to describe someone with less-than-desirable intelligence, do a tremendous job of describing the individuals currently running refereeing in the Premier League or the Prem officials themselves. Bad officiating is nothing new to soccer or any team sport. However, this season has seen the introduction of the video assistant referee (VAR) to the English top flight.
Let's back up a bit. VAR's breakthrough into the mainstream came in early 2017, when it became a permanent fixture in a top division via Australia's A-League. It was also used that summer at the Confederations Cup, and then introduced to MLS after its All-Star Game and in Germany's Bundesliga and Italy's Serie A for their 2017-18 seasons. Despite some expected growing pains, VAR was largely a success. The International Football Association Board (IFAB), the rule makers of soccer, wrote VAR into its laws of the game in 2018, solidifying it in the sport. Its use at the 2018 World Cup was met with acclaim, and it was brought to Spain's La Liga for the 2018-19 season. The UEFA Champions League introduced it in the knockout stages of the 2018-19 competition. VAR was featured in the 2019 Women's World Cup as well, and although there was pushback from some who thought it was overstepping its bounds, it more or less did its job.
Then it came to England and everyone lost their minds.
When discussing VAR, it is important to understand how and for what it is used. The job of replay review is NOT to replace referees. Rather, it is intended to provide a safety net for referees and correct a "clear and obvious error or serious missed incident in relation to: goal/no goal, penalty/no penalty, direct red card (not second yellow card/caution), [and] mistaken identity (when referee cautions or sends off the wrong player of the offending team)." Along with the four on-field officials, each match has a VAR official in the London VAR room, similar to how all NFL and MLB replay reviews go to New York. The VAR official watches back potential incidents and remains in contact with the lead ref in case of problems. If he sees something he would overturn, he alerts the referee, who is then supposed to review the incident at the on-field monitor. Ultimately, the referee makes the final decision.
At least, this is how VAR is supposed to be utilized. Unsurprisingly, the Prem's implementation of it has been an utter disaster. Why? Well, there are a few reasons. First of all, there was fan resistance from the start. Not all, but many fans view VAR as taking some of the essence of soccer out of the game. They find the stoppages in play to ruin the flow and believe the game is turning into something else entirely. And when the match officials aren't used to using VAR, the stoppages can be overly long. Some fans also believe the emotion of the game is hurt by VAR because a goal can be called back, thereby deflating fans' excitement after scoring. These are understandable points, but if the ultimate goal of VAR is to make sure the right calls are made, these are things fans will just have to learn to deal with. Fans in Italy, Germany and Spain all felt the same way at first, but they have now come around to VAR.
The main issue with VAR in England is that it is being conducted by a bunch of muppets (see, told ya I'd use it). Over the course of the season, VAR calls have time and again been decisive in determining a game's result. That would be fine IF the calls being made were actually correct. Unfortunately, they're not.
See, VAR is great in theory. But it is only a tool. And when the people using that tool are melons (got that one in too), it doesn't matter what the system is. In their last two Premier League games, Chelsea have been the victim of poor refereeing with VAR's involvement three times. Against Manchester United on the 17th, United's center-back Harry Maguire, a.k.a. "Slab-Head," fell while jostling with Chelsea forward Michy Batshuayi for the ball before kicking Batshuayi in the area where you really shouldn't be kicking someone. The play went to VAR, who didn't see enough to overturn it. WHAT?
Then, in the second half, Chelsea scored a goal off a corner to tie the game at one. Unfortunately, VAR ruled it out when the VAR official, not the referee who for some reason didn't review the play, decreed that Chelsea defender Cesar Azpilicueta pushed United's Luke Shaw during the corner. While this technically wasn't wrong, the only reason he was pushed was because United midfielder Fred pushed Azpi first.
Just a few minutes later, Maguire scored United's second point of the game. United went on to win 2-0. However, Maguire should have been sent off about 20 minutes before United's first goal. VAR directly led to one goal being taken away and two being scored in this game.
Last Saturday, Chelsea played Tottenham in a must win game for both sides. With Chelsea up 2-0 in the second half, Spurs' Giovani Lo Celso stamped on Azpilicueta's ankle in a clear sending-off act. Well, apparently THIS isn't worthy of a red card either.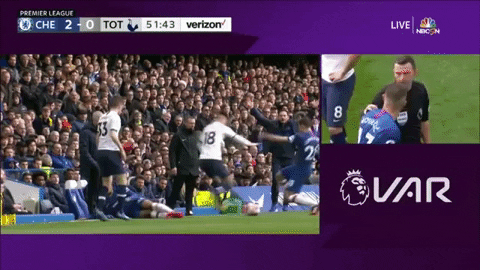 Chelsea held on to win 2-1, and Azpi was fine, but he could have been out for months. That is as clear a red card as they come, and the refs still managed to botch it.
You would not see calls this blatantly poor in other countries. The refs in the Premier League are, quite frankly, awful. For a league that is considered the best and wealthiest in the world, how is it that you have such poor officials? For proof of this, FIFA chose zero English referees or assistant referees for the 2018 World Cup. The last well-respected English ref, Mark Clattenburg, left the Premier League in 2017 to go become a ref in Saudi Arabia. You may remember him as the guy who stuck his tongue out at then-Real Madrid defender Pepe in the 2016 UCL final after he dove right in front of Clattenburg. Look it up if you don't know what I'm talking about. It's worth your time.
VAR is doing its job. It provides the referees with the proper technology to correctly officiate a game. But as long as the referees are doing things like not checking the on-field monitor and making incredibly stupid decisions, the calls for VAR to go will only become louder.