Matt's Musings: There's more than one GOAT in professional soccer
Greatness is hard to recognize in real time. It's unlikely the first humans who used tools were like, "Yoooo…" Greatness is historical, and history, by definition, is a study of the past. But, today, we have the ability to look at certain things with a historical perspective and know as something happens that it will go down in the books. Something like the election of the first Black president in 2008 or Tiger Woods winning his fifth Masters earlier this year felt, at the time, like they transcended their moment. At this very moment, and for the last 12 years, soccer has been in that very state.
On Monday, Barcelona's Lionel Messi took home his first The Best FIFA Men's Player award (which, I might add, has the worst name of any sports honor), building upon his five other world-class individual awards. This is his first award since he won the FIFA Ballon d'Or in 2015 on the back of his second treble with Barcelona. Messi has now won a player of the year trophy in six out of the last 12 years, a remarkable feat.
Coming in just behind Messi is Juventus' Cristiano Ronaldo, who has taken home top honors in five of the last 12 years. Thus far, only Real Madrid's Luka Modric has toppled the two giants, winning The Best FIFA Men's Player in 2018 on the back of a Champions League victory and a run to the World Cup final with his native Croatia.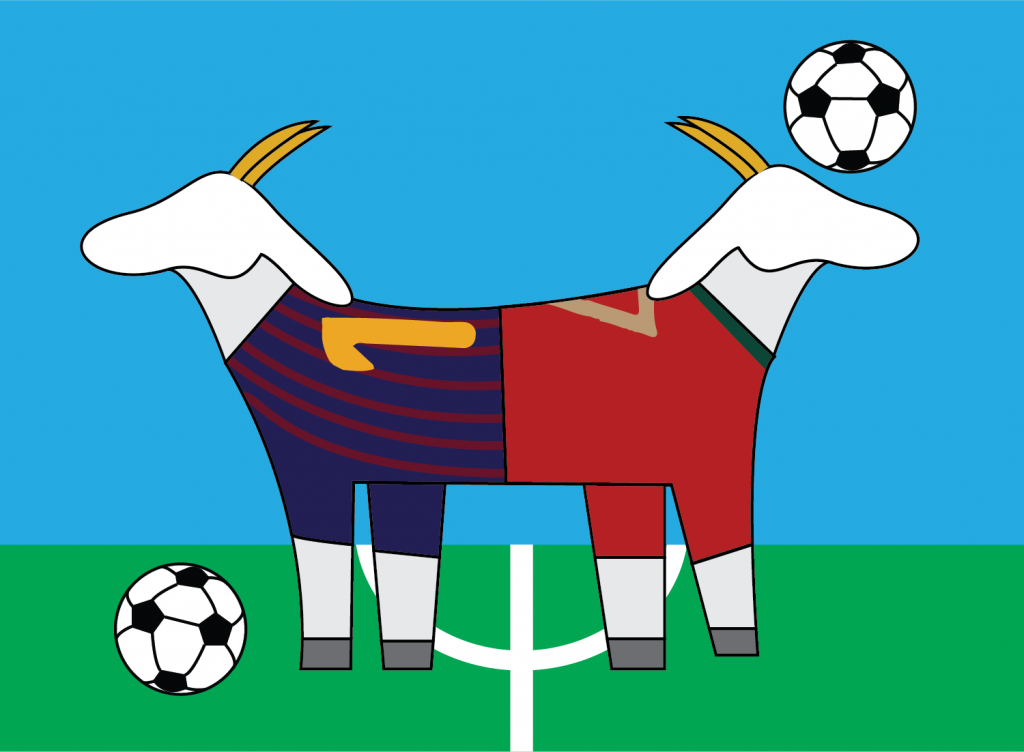 This period of dominance from Messi and Ronaldo is truly unprecedented for a few reasons. Players rarely, if ever, stay at their peak as long as these two players have. It is also rare to have footballers as good as these two. There are maybe four or five others who have reached the level of Messi and Ronaldo. However, the most special thing about this era is that they have done it together. The respective peaks Pele, Johan Cruyff, Diego Maradona, and Ronaldo Luis Nazario de Lima reached never overlapped, meaning the world only got to see one potential Greatest Of All Time (GOAT) at a time.
For both club and country, Messi and Ronaldo have combined for 1792 appearances, 1363 goals, 535 assists, 15 league titles, nine Champions Leagues, nine domestic cups (11 if you count Ronaldo's two League Cups) and one major international trophy. Ronaldo has established himself as the king of Europe, scoring a wondrous 126 goals in his Champions League career. Messi, meanwhile, decided to mess around and bag a mind-boggling 91 goals during the 2012 calendar year. Oh and for ten years, they competed not just as individual rivals, but as the talismans of Barcelona and Real Madrid, contestants of El Clasico, the greatest rivalry in sports—fight me.
From 2008-2019, CR7 and La Pulga (The Flea) have defined football. It is like if Michael Jordan and LeBron James played at the exact same time, or if the presidencies of Lincoln and FDR happened simultaneously. In short, we are witnessing two once-in-a-generation talents at the same time. It is unheard of in any sport.
Unfortunately, we find ourselves unable to enjoy it. You cannot go a day without seeing a comparison of the two. Both men have legions of fans who spend more time insulting and degrading the other player than supporting their own. And this is all despite the fact that, while not exactly best friends, Messi and Ronaldo have always had great respect for one another.
Fans of these two emulate "stan" culture, making online accounts about their favorite player and engaging in social media battles with other "stans." Messi fans like to focus on Ronaldo's penchant for scoring penalties, giving him the nickname of "Penaldo" in order to somewhat lessen his accomplishments. On the other side, CR7 fans like to make fun of Messi's relative lack of success for Argentina and in the Champions League in recent years. This critique belies the fact that Messi went to three straight international finals, almost single-handedly dragging La Albiceleste—the Argentinian national team—through the tournaments.
It's unclear how much longer Messi and Ronaldo will be around. At 34, Ronaldo is playing less and less, saving his energy for the bigger games, where he is still as effective as ever. Messi remains at the top of his game, but he struggled with injury at the start of this season, missing Barcelona's first five La Liga games before coming on as a sub against Borussia Dortmund in the Champions League. He also started in Barcelona's league game against Villareal on Tuesday but was replaced due to injury at halftime.
I would love for them to play forever, wowing crowds with unmatched skill and intelligence. Unfortunately, Father Time is undefeated—except maybe by Tom Brady. Let's not fight and insult each other, but rather appreciate and marvel at two men who have achieved the pinnacle of greatness before they're gone.