Bears' dominance doesn't hibernate
Winter sports by the numbers
Washington University athletics is in the middle of a banner year. Women's soccer won a national championship, two more teams were runner-ups, and for the first time in school history, all six fall sports made it to the NCAA tournament.
The pace has continued well into the winter season. With only a few weeks to go before the playoffs, five of the Bears' six winter sports are ranked in the national top-10.
In the Field House, No. 5 men's basketball is back to its winning ways with a 9-0 record. Also on the hardwood, No. 9 women's basketball is riding its torrid offense to another strong season. Meanwhile in the water, the No.7 men's and No. 6 women's swimming and diving teams are already in Chicago, competing against a crowded conference field. Finally, to round out the programs, the No. 2 women's and No. 18 men's indoor track and field teams continue to enjoy top times.
Here are some critical stats from the first two months of the winter season.
Indoor track and field
10 top-10 Division III times for the women's track and field team. Part of the reason why the Bears are ranked second in the country (and only trailing number 1 by 3.05 points) is how competitive they are in a wide variety of events. Senior Daisy Ogede is in her usual place at the front of the pack, with the fifth best Division III times in the 60-meter (7.78) and 200-meter dash (25.46). Junior Annalise Wagner, senior Ashley Knudson, junior Alison Lindsay and senior Rebecca Ridderhoff account for the rest of the Bears' top individual times. Ogede, Wagner, Ridderhoff and senior Kelli Hancock also teamed up to capture the top 4x400m relay time in Division III when they racked in the Engineer Invitational at the end of January. At 3:51.58, their mark is almost three and a half seconds faster than the third place time, which happens to be another iteration of the Wash. U. relay team.
0.7 seconds. Senior Deko Ricketts' signature event is the men's 800m. Currently, he has the eight best time in Division III at 1:54.75. He is, however only 0.7 seconds slower from owning a top-three mark. If he can shave that time off his pace, he'll be in striking distance of a national title. It seems possible. Ricketts set a career indoor mark last February of 1:50.59.
Women's basketball
78.7 points per game scored by the Bears this season. Wash. U. is averaging 10 more points per game (ppg) than last year thanks in part to a front court of Division I transfers: sophomore Madeline Homoly (University of South Dakota) and seniors Jenn Dynis (College of the Holy Cross) and Zoe Vernon (Winthrop University). In 20 games, this trio has averaged 34.6 ppg and shot a combined 50.25 percent from the floor. As a team, the Bears are hitting 46.2 percent of their attempts, good enough for third-best in Division III.
22.2 is how many points Homoly has averaged in her last five games. The transfer has enjoyed a solid, but inconsistent, start to her Wash. U. career, as her offensive opportunities fluctuated from game to game. Since mid-January, however, Homoly has become a force off the bench, helping to drive the Bears' current six-game win streak. She averages team-bests in ppg (13.2) and rebounds per game (7.0).
1.46 assist to turnover ratio. After 31 years, head coach Nancy Fahey's teams are well-known for their fluid offenses and ability to take care of the basketball. This season's squad is no different. Their assist to turnover ratio is the second-best mark in Division III. Much of that is thanks to sophomores Becca Clark-Callender and Claudia Smith, the Bears' two point guards, who average 3.4 and 2.5 assists per game (apg) respectively.
Men's basketball
11 straight wins. After a rough start to December, the Bears have rattled off nearly a dozen wins. It's a surge that has catapulted them from fringe playoff team to elite. Consistency has been key. Since the streak began on Dec. 29, the Bears have shot over 42 percent from the field all but one time. Nine of those 11 wins have come against conference opponents, including one against No. 4 University of Rochester.
19.4 assists per game dished out by the men's basketball team. Head coach Mark Edwards likes to tout his team's chemistry. It's a claim that's very evident in the stat sheet. The Bears' 19.4 apg is the fourth-best make in Division III. Junior guards Kevin Kucera (6.1) and Jake Knupp (4.1) provide a little over half of that total.
Swimming and diving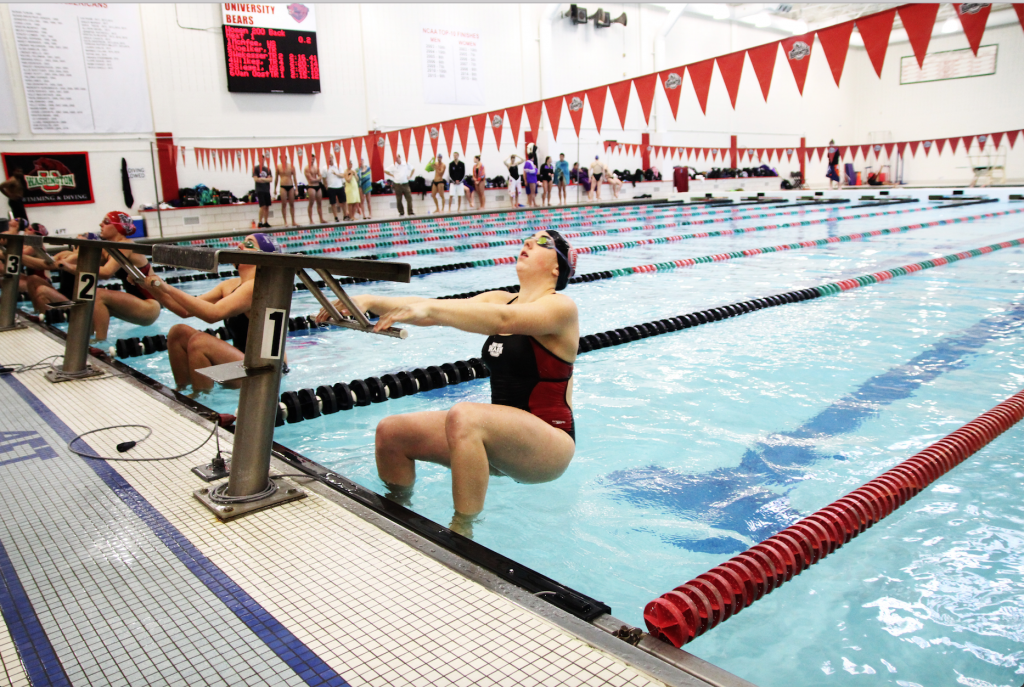 30 first-place finishes against a pair of Division II opponents. On Jan. 20 and Jan. 21, the men's and women's swimming and diving teams competed in a pair of meets against Lindenwood University and Truman State University. MariMac Collins paced the win total for both teams, as the senior walked away with seven victories including a pair in the 100-meter freestyle.
5 UAA teams in the top-15. Both men's and women's swimming and diving teams at the University of Chicago, Emory University, Carnegie Mellon University, New York University and Wash. U. are ranked 11th in the country or higher. It's stiff competition for the Bears as they continue their conference meet into this weekend.