Thirsty Thursday: A guide to St. Louis' independent breweries
Beer is a lot like coffee: Both are ubiquitous, too bitter for some palates and range in price from spare-change prices to five dollars or more per drink. They have similarly large ranges in terms of brands and flavors, though we usually don't think much about the wide variety. Sometimes, though—perhaps to treat ourselves or feel a bit more adult or trendy—we might go for something special. It's most fashionable to buy local if you feel inclined to experiment in independent craft beer (as opposed to wine, which, if you're fancy enough, comes from another continent). But to buy local, you have to know what's available and what the specific choices entail. Most national beers taste the same to me, but local, more specialty options can really range in flavor and composition. So, here's a quick guide to what you can expect.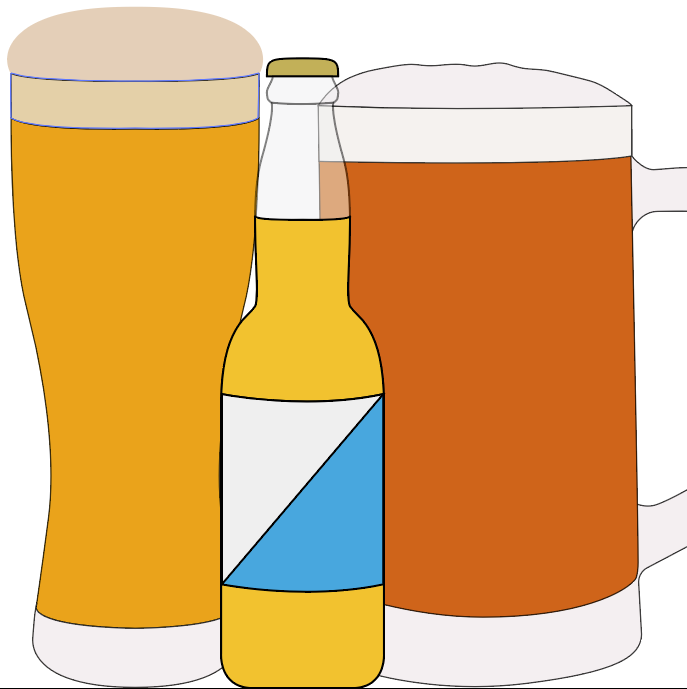 Illustration by Josh Zucker
St. Louis has become the sort of city that fosters enthusiasm for craft beer, though the city used to only have beer giant Anheuser-Busch to its name. Schlafly opened in 1991, as one of the first breweries under the A-B shadow. As a result, it is the largest of the independent companies in St. Louis, and it makes a range of different styles and varieties (my personal favorite is the lighter Pale Ale). They make a number of light German beers, some heavier, darker stouts and seasonal, spiced beers. Schlafly is a good place to start finding new flavors and styles of beer, since they offer so many kinds and can be found most easily in St. Louis.
Also, in case you were wondering, the company is only tangentially related to Phyllis Schlafly, founder of the conservative interest group Eagle Forum. It was created by Tom Schlafly, who is Phyllis' nephew by marriage. If this is confusing to you, don't worry—the Schlaflys feel the same way. When Schlafly Beer applied for a trademark in 2012, Phyllis Schlafly opposed it, stating that the brand stood against the values of conservative groups she represented. In 2016, the U.S. Patent and Trademark Office sided with the beer company.
But Schlafly is only one of the craft breweries in St. Louis, and if you're hoping to really become a local aficionado, you're going to have to dig a little deeper.
In recent St. Louis beer history, 2008 is often considered a sad year, since that is when two merged Belgian and Brazilian companies, Interbrew and AmBev (collectively called Inbev), bought out Anheuser-Busch. Inbev cut jobs at A-B, but I'm sure that its modern, mega-corporate name hasn't helped their public image, either.
2011, though, is often touted as St. Louis beer's redeeming year. That's when the self-styled "Class of 2011" entered the local beer scene, including the four breweries Urban Chestnut, Civil Life, Perennial Artisan Ales and 4 Hands.
Of the Class of 2011, Urban Chestnut Brewing Company seems to have grown the most in the last five years—and from what I can tell, it rivals Schlafly in terms of local sponsorships and local ubiquity. This is to say that you'll find its cute squirrely logo in and around many St. Louis pubs and bars. It makes a combination of Bavarian-style beers (with names like Schnickelfritz and Oachkatzlschwoaf, which I'm glad I can copy-paste and don't have to say out loud) and American ones (including the nutty Winged Nut Chestnut Ale).
4 Hands is probably best known for the City Wide American Pale Ale and the City Wide Pilsner. These brews are found in white or blue cans with the St. Louis flag across the front, signifying that a portion of proceeds goes to non-profit organizations around St. Louis. Besides the popularity of Schlafly and Urban Chestnut, 4 Hands's City Wide may give you the most St. Louis beer-cred. Besides these options, it also has a number of more experimental beers available year-round, like the Single Speed American Blond Ale, which—besides its definitively hipster name—drinks easily through an addition of jasmine in the brewing process, making for a refreshing fruity smell and taste.
Civil Life and Perennial Artisan Ales are smaller operations, so you won't see them around St. Louis quite as often. But they both have unique offerings. Civil Life does offer a strong number of session beers—meaning these brews have less alcohol. And Perennial, fitting with its name, often experiments with mixing in herbs, fruit, spices and other foods—the way I'm sure we all imagined doing when we were kids. Perennial's selection includes one beer called "Abraxas," which is a stout with ancho chili peppers, cacao nibs, vanilla beans and cinnamon sticks.
These are only the main independent breweries in St. Louis (which is kind of an oxymoron in itself). But that just means there's more out there to find and explore!