MFA students recite gripping stories, poems
On Tuesday evening, the English department's Master of Fine Arts program held a reading at Duncker Hall with four participating graduating students. The degree, for those who have never heard of it before, is an intense two-year program in which participants work toward degrees in fiction and poetry.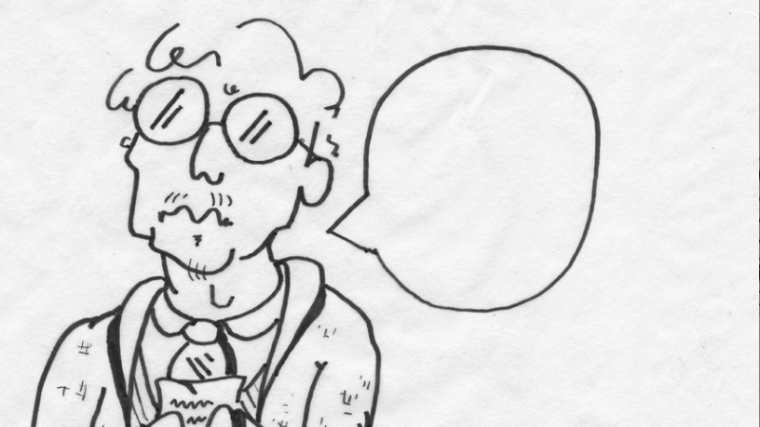 Becca Christman | Student Life
Despite being an English major, I had not heard of the graduate school program before the event. I can only speak to my own shortsightedness, but I've found it's so easy to get wrapped up in the undergraduate experience that Washington University's large population of graduate students often gets pushed outside central campus' general consciousness. It seems logical that this would occur, since undergrads typically have little reason to interact with many graduate students, unless they are acting as our teaching assistants or instructors.
The MFA event on Tuesday was one of the first times I really got a glimpse into the graduate world. Walking into Hurst Lounge, I immediately sensed how close a community the program fostered. With all the hugs, kisses and greetings, everyone seemed to know everyone else. I overheard at least three separate occasions of students introducing their mothers.
David Schuman, the director of creative writing, introduced the readers using the humorously cliched passengers on a ship metaphor: "The passengers get off with their luggage and live among us for a while and then in what seems just a moment later they are boarding the ship hopefully with more luggage than they came with and embark to numerous places unknown. I happen to think that these ships have even more majesty sailing away from us than they do coming in. What we'll witness over the next two nights of readings is some of that majesty."
The first reader is fiction writer Marta Evans, whose soft, expressive voice quickly captured the attention of the room. She is three minutes into her piece about the birthday and dark encounters of main character Cleo and has just read the line, "Sometimes when she is alone she throws the remote at the wall to watch it break apart, but she always puts it together again," when Chopin Nocturne No. 2 starts playing from an unknown location in the room. Evans does not respond to the interruption until the culprit is revealed to be no other than fiction professor Kathryn Davis, who struggles inside her bag to the find her ringing phone. Recognizing the irony of the situation, Evans and the rest of the room break out laughing before the phone is shut off and the writer resumes her serious tone.
Next is poet Aaron Coleman, who begins by thanking the professors and his present friends, who take up their own row. His deep voice is almost as powerful as the opening poem itself. Once he finishes I nearly begin enthusiastically clapping before I see no one else doing the same and deduce that reading etiquette dictates waiting until all the poems have been read before the applause. Coleman shows his next complexly organized poem, "Saint Trigger," to the audience before reading it.
"I'm only showing it because it's so scatter-shot across the page that it's not supposed to lend itself to one specific reading but sort of have different ones through systems of sound and logic," Coleman said.
He later gives the audience a two-poem (plus a Tanka) warning, which the audience uses to break into applause at just the right moment.
The response is just as enthusiastic for the two writers who follow him, Ravind Grewal-Kok and Aaron Teel.
Coleman gave a short introduction for Grewal-Kok.
"Whenever I read Ravind Grewal-Kok's work, I find myself thankful for the courage and audacity of his storytelling, how it opens doors into rooms to ourselves that can be uncomfortable if not terrifying to look into or even unlock," Coleman said.
Grewal-Kok's vivid story explored his encounters with violence in Punjab and then Canada. Teel's work could not have been more distinct. Reading an excerpt from his book Shampoo Horns, he maintained a deadpan expression through all of the dark humor of his piece, which took place in a small town in Texas.
Each reading was incredibly different from the last, yet they were all marked with the same intensity that gripped the audience. Walking out, the individual readers' voices rang in my mind. I couldn't believe that I had almost passed up on the opportunity to witness the amazing talent that the MFA program has. It may have been the first graduate student event I have ever attended, but it certainly will not be my last.
The second round of readings will take place Thursday, April 23 at 8 p.m. in Hurst Lounge.