Branson, Missouri: It's better than Cancun
Sometimes, you have to take the road less traveled. Sometimes, you have to look yourself in the mirror and know you took a risk. These are lessons I've learned from Dodge truck and Wells Fargo commercials, respectively. I try to apply them in my everyday life whenever possible.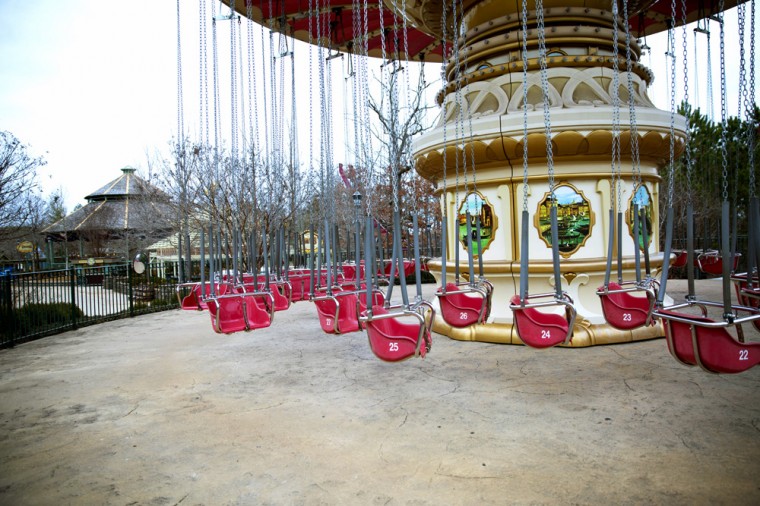 I recently found the perfect chance to test these focus-group-approved mantras. When my friends and I decided that we would be taking a trip together for spring break, there was only one possible option: Branson, Mo., located just a few hours south of St. Louis. Instead of traveling to an exotic Spring Break locale like Cancun, Hawaii or Bar Harbor, Maine, we chose a place known best for Dolly Parton's Dixie Stampede, the Hollywood Wax Museum and the Americana theme park Silver Dollar City.
The trip was not a drama/action spring break adventure like "Spring Breakers" or a comedy/action spring break adventure like "22 Jump Street." No, Branson, Mo., is like going to a carnival that had a bit too much money on its hands. If you've ever been to Myrtle Beach, S.C., you have some idea of what Branson is like. Just remove the beach and move everything 1,006 miles inland, and it's the same place. It was a glorious experience.
So five friends and I rented a small cabin at the prestigious Notch Estates. We arrived late at night, driving into Branson through winding back roads that would turn suddenly to reveal large billboards heralding the return of comedic genius Yakov Smirnoff. I can still see his smiling face sometimes. This occurs most often when I Google "Yakov Smirnoff smiling."
The cabin itself was quaint and well-decorated. One wall was adorned with three mounted deer heads, all with heads turned just slightly in order to monitor all corners of the living room. The opposite wall featured a holy trinity of mounted bass fish. Add in a box of VHS tapes including "Spy Kids" and "Land Before Time 4" and it was clear that this was a place we could call home.
Of course, every quaint cabin comes with a nightmare-inducing abandoned chapel, and ours was no different. Just across from our cabin was such a chapel, with no apparent lights or congregation (even on Sunday). I could have sworn I heard the chapel whisper "Join us" at one point, and this isn't a court of law so please don't check my facts on that anecdote.
The first full day in Branson was spent attempting to hike and touring the local fish hatchery. Yes, I know the trope of college students visiting a fish hatchery over spring break is overplayed, but trust me, this was dope. You could feed the fish pellets for a quarter and then your hands would smell like weird oil for a week.
Inside the hatchery's learning center we found terrariums, a fish tank full of the "brood" fish and an exhibit on the effects of DDT on Eagle eggs. It featured a fake infected egg that visitors could touch, which one friend described as "delightful and slightly erotic. I will be searching for that feeling for the rest of my life."
The second day featured much more adventure as we took on the Hollywood Wax Museum (whose Celebrity Mount Rushmore features a Marilyn Monroe that looks suspiciously like Joan Rivers) and a restaurant titled The Great American Steak and Chicken House, aka Whippersnappers.
Like six ruffians fresh off the western plains, we devoured our free cornbread and fried chicken. The window featured a marvelous view of the parking lot. Like Frank Sinatra in "My Way," we had a few regrets, but then again, too few to mention.
We also visited a Dixie Outfitters store, famous for its incorporation of Confederate flags onto every possible T-shirt (choice example: a Confederate flag draped around a small Dachschund puppy).
It was here that I purchased what is now my prize possession: a matted recipe card for meatloaf featuring a handsome young Elvis Presley. I do not believe that Elvis was a particularly big fan of meatloaf and the recipe itself was nothing special. It was the same kind you would find on the side of the Hamburger Helper box you found in the back of your kitchen cabinet. In any case, I purchased the curio and it now sits in an esteemed spot on my bookcase. If you have any further information on the origins of Meatloaf Elvis, please contact me.
The third day, the culmination of our stay in fabulous Branson, brought us to Silver Dollar City. Known for its "fresh" takes on American History and subtle racism, it's a must-visit location. Upon our arrival, it was clear that we were visiting in the park's offseason. Every parking lot was empty except for the one nearest the park (the handicapped lot). Wanting to blend in with the crowd, we cautiously parked the car and walked into the park like we knew what we were doing.
We did not know what we were doing. The park was, in fact, closed, but some kindly older women showed us how to walk through the backstage area and into the park. We spent the next hour and a half walking around Silver Dollar City's in-repair facades and closed rides as workers drove by in golf carts and waved at us. The lesson here is that your high-school public speaking teacher was right: confidence is key. Disney World would never let something like this happen, and that's why Branson is better than Disney.
If you embrace the weirdness and the kitsch, Branson can become the ideal spring break spot. It may not have expansive beaches, resort service, girls going wild or yard-long Margaritas. But it does have a wax figure of Daniel Craig from his groundbreaking role in "Cowboys & Aliens." And isn't that just as good?