Condoms: Latex vs. non-latex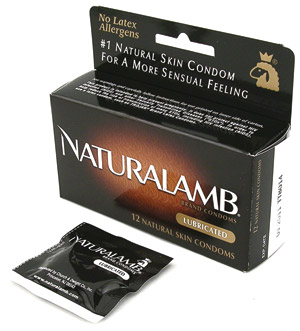 While idly browsing the family planning section of Walgreen's one morning, I found myself rediscovering all the fabulous varieties of condoms. Next to the Mint Tingle Trojans and Assorted Durex Pleasure Packs stood Lifestyles' "Skyn" non-latex polyisoprene condoms and Naturalamb non-latex lambskin condoms.
When choosing between a 12-pack of plain lubricated condoms for $12.99 and a box of Naturalamb for $29.99, most would select the cheaper option. After all, we're college students—we shouldn't have to pay 30 bucks to have sex only 12 times.
So why would anyone choose Naturalamb or Skyn over your average Trojan (latex allergies aside)? Although both lambskin and polyisoprene are advertised as alternatives to latex that increase pleasure and can even cause a warming feeling, "for that skin-to-skin sensation," the truth comes from the consumer.
Lambskin condoms, typically made from a lamb's caecum (intestine), are roomier than standard latex condoms but less stretchy. One anonymous female junior said of the lambskin, "There wasn't much sensation. It felt like a sock, if a sock could be compared to a condom." In addition to these drawbacks, lambskin is much more porous than either latex or polyisoprene, making them permeable to water and able to leak viruses and other small cells. Although the dreaded sperm cannot get through (making these viable contraception devices), they do not protect from STIs. In a world in which STI figures continue to grow annually, STI prevention is extremely important. As the Naturalamb Web site warns, "NATURALAMB® Brand Condoms are ideal for the monogamous couple."
Polyisoprene condoms, by contrast, were approved in 2008 by the FDA for pregnancy prevention and STI protection as an alternative to plastic polyurethane condoms, a less flexible non-latex option. Although more form-fitting than both lambskin and regular condoms, these are much more elastic and are made from natural rubber—think of the texture and fit of a surgical glove. According to Health News Digest, "80 percent of women surveyed claimed they would buy this product," although one anonymous male senior reports that polyisoprene condoms "are like screwing with a plastic rock, and you can't see a d— thing!" Made in flesh color to simulate a second skin, perhaps their cloudy tint takes away from a sexual encounter, rather than improving it.
Still, most Web sites and articles that review lambskin, polyisoprene and polyurethane condoms claim all three are thinner than latex. Whatever the reality, the importance is the comfort and fit for a partner. An anonymous sophomore female offered that once while trying a lambskin condom, "just to see," she found the condom had slipped off mid-sex, and she ended up not only unsure of her health after the encounter but in need of a visit to a gynecologist to remove it! A condom must fit correctly and be put on right to be 100 percent effective in preventing pregnancy and STIs. So when considering your condom options, be open to different materials like latex, lamb-skin and polyisoprene; just be aware of their benefits and drawbacks.
For more information, visit: http://www.avert.org/condom.htm