Article
The Portrait Representation Project is a staff-wide initiative that focuses on the representation of marginalized communities on Washington University's campus. Student Life staff conducted a campus-wide review of portraits hanging in the Danforth campus, as well as interviews with administrators, faculty and portrait artists. Thus far, we've collected data on over 90 portraits. This data reveals who is represented among the university's donors, alumni, former administrators and faculty and, more importantly, who isn't represented.
What follows is a series of interviews that reveal the artistic importance of portraiture, the process of commissioning a portrait, and ideas on how to reflect diversity in a physical space.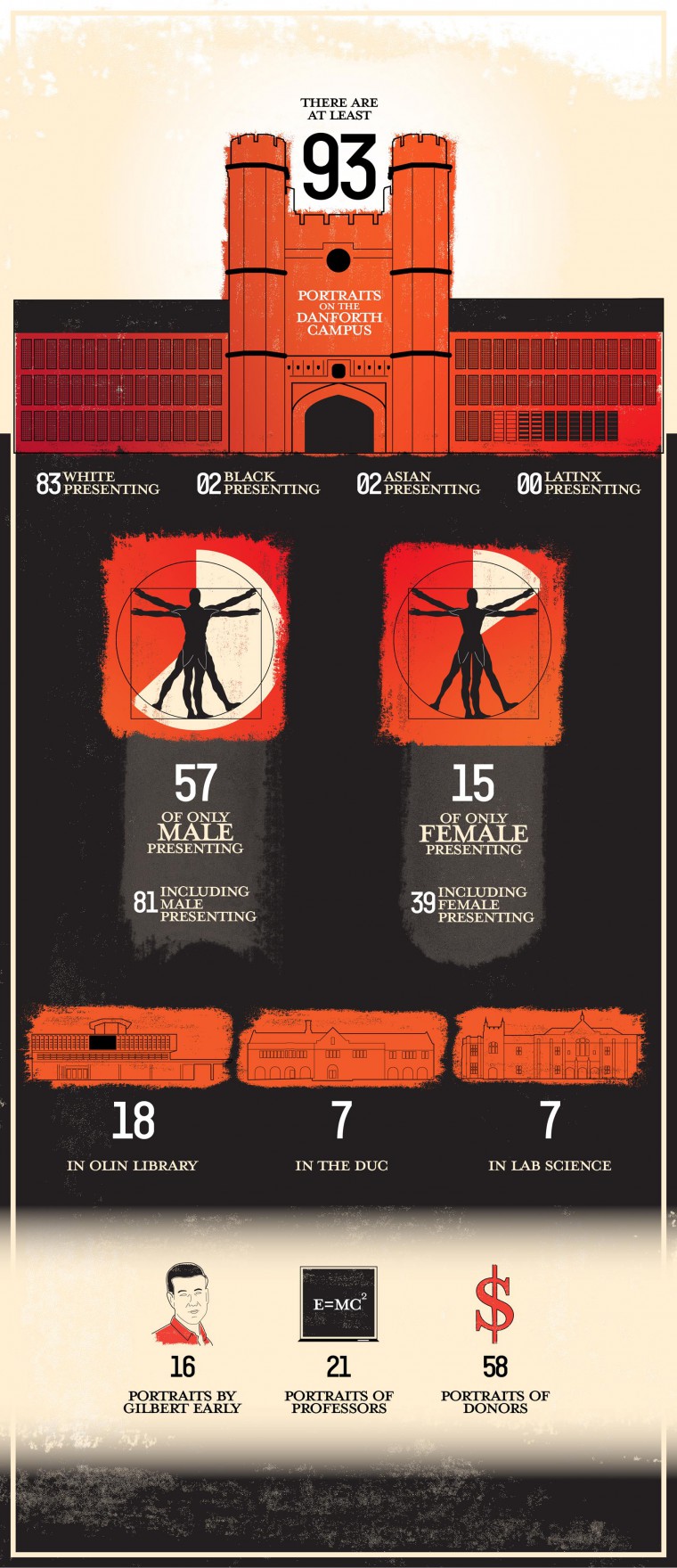 Graphic by Brandon Wilburn
THE SOCIAL POWER OF PORTRAITS
"The DUC was sort of the moment when I started noticing the ubiquity of heterosexual couples in portraits," Professor of History and Women, Gender and Sexuality Studies Andrea Friedman said.
Built in 2008, the Danforth University Center is the hub of student activities on campus. It is also home to 11 portraits, one of the highest amounts of any building on campus. At the time this interview was conducted, Professor Friedman was teaching an introductory course on sexuality studies. One of her assignments required students to examine portraits in the DUC and look for female representation.
What students found – and what our data supports – is that women are most often presented alongside their husbands in portraiture.
"It was almost all a standing man and a sitting woman where the man is somehow touching her. That's a really common kind of stance in those portraits. It seems to me that the kind of male-female couple has become more common in recent years," Professor Friedman said.
To Professor Friedman, this sitting reflects the lasting legacies of the gender wage gap and other ways in which women are seen as dependent on their husband's income.
"There's always social power, or economic power or political power, embedded in those monuments [to a past] and I think portraits also do the same thing even if that's... maybe that's the intention, maybe it isn't," Professor Friedman said.
Professor Friedman recalled a faculty meeting held in Brookings Hall, in a special room where the portraits of past chancellors line the wood-paneled walls.
"They're all white men. That reminds me of how much this institution has been shaped by the narrow range of people that have run it over the years," Professor Friedman said.
Portraits are a reflection of institutional history, one that is male-dominated and majority-white, much like many of our peer institutions nationwide.
"In portraiture, in certain ways we create monuments to a past," Professor Friedman said. "That's not necessarily the ways that people think about them in their everyday lives. We think that we're just remembering people who mattered in the world."
Professor Friedman acknowledged the effect that this can have on students, faculty and staff.
"If you don't see your experience reflected, then you feel either insignificant within the broader institution, or you just don't feel like you belong because it doesn't seem like you have any social existence," Professor Friedman said.
Assistant Professor of Education Michelle Purdy has spent a significant portion of her life witnessing this dynamic. Purdy is an alumna of the University, having served as Student Union President during the 2000-2001 school year. She has also engaged with this topic in her new book, Transforming The Elite: Black Students and the Desegregation of Private Schools, which focuses on the first few students to integrate The Westminster Schools in Atlanta, Georgia. Though her work is concentrated on K-12 education, Purdy notices parallels in higher education.
"Part of what we're telling students for whom these institutions were not built is that you're welcome here and that you can thrive here and that we want you here," Purdy said.
However, the limited number of underrepresented staff, faculty and alumni represented in portraiture contradicts this message.
"What you see every day also communicates to you who's valued, and can communicate who's not. It might lead you to think about who maybe is not valued in the same ways as other people," Purdy said.
In Purdy's view, portraiture is not the only component of a university's "visual narrative." She also cites public art, such as the Olympic Rings and the statute of George Washington outside of Olin Library, as underscoring the University's interests and priorities.
Purdy also associates the physical manifestation of diversity with permanent student space. During her time as an undergraduate, the Women's Building used to be the locus of student life. Following the construction of the DUC in 2008, many organizations relocated, and a significant amount of student activity transitioned away from the Women's Building.
As a result, some students felt that affinity spaces occupy the margins of the University. Purdy acknowledged these frustrations.
"Unless you go into those particular spaces or maybe into the CDI, it's kind of like the notions of diversity are just relegated to 'the spaces for diversity' but then not infused throughout the university," Purdy said.
Both Purdy and Professor Friedman discussed the irregularity of decorations between departments and academic buildings. Both Seigle and Busch halls are sparsely decorated. Faculty office doors are the site of most posters and other artwork, but the walls remain mostly bare. This contrasts with buildings like McMillan Hall, home to several humanities departments including WGSS and AFAS which boast posters, photographs and the work of students and faculty on its walls.
According to Professor Friedman, Busch Hall used to have portraits of former faculty members in the main faculty conference room prior to its renovation several years ago. The portraits of three former department chairs, all white men, hung on the wall. Professor Friedman recalls some faculty members mutually agreeing to remove the portraits to reflect the department's modernity.
"At some point we decided, 'we don't want those anymore,' because it didn't feel inclusive," Professor Friedman said.
IN THE ARTIST'S WORDS
Portraiture is a tradition that artist Ying-he Liu sees lasting through the ages.
"My feeling is, as long as there are humans existing, this desire for immortalized beauty and importance is going to exist," Liu said.
Liu painted the commissioned portraits of Mildred Lane Kemper and Sam and Marilyn Fox. She is originally from Shanghai, China and has a deep appreciation for portraiture.
"I'm glad there is still this demand for artists like me to do something in this traditional vein. As an artist, I am just so grateful for the interest and the demand to keep this manner of work alive," Liu said.
In 2005, Liu was contacted through the gallery that represents her by a member of the Kemper Family. Shortly thereafter, she was also selected to paint a portrait of the Fox's. The process of painting a portrait varies for artists. For Liu, it takes several months to a year.
Liu thoroughly enjoyed the process, and developed a relationship with the Foxs while conducting the initial sketches and photo sittings.
Mildred Lane Kemper's portrait was slightly more challenging, since it was a posthumous commission. The Kemper Family selected some photos for Ms. Liu to use, but they weren't suitable for a formal portrait. Liu pieced together separate photos to compose a full image of Kemper.
Despite painting commissioned portraits, Liu does not feel stifled artistically.
"The nature of this commission work is that you help the subject to achieve some kind of a statement about themselves. Also it's more of a commemorative effort," Liu said.
Liu's definition of success is satisfaction from both herself and her client.
"It has to be at a level of execution that I think it measures up to my name and my reputation. It's absolutely the best that I can do with this God-given talent," Liu said. "The response from viewers, very often they'll say that my painting exceeded their expectations. That's what I consider success."
COMMISSIONING A PORTRAIT
As far as the process of commissioning portraits itself goes, Vice Chancellor for Public Affairs Jill Friedman notes that the process is highly individualized.
Vice-Chancellor Friedman acknowledged this irregularity, stating that the University's decentralized structure means that no one individual or office determines what can or cannot be placed on the walls of academic buildings.
"You've gotten to a very important point, which is it's multi-layered. There isn't any one specific answer," Vice-Chancellor Friedman said.
The portraits we documented are categorized in two ways: honorary and donor portraits. Donor portraits are more widely recognized as commemorating "friends" of the University who have made major donations to departments, programs and major capital projects. Those who are the namesakes of buildings or large spaces on campus, such as Tisch Commons and Hillman Hall, are typically recognized with a commissioned portrait. For more recent donations, some donors are photographed.
According to Vice-Chancellor Friedman, the location of a donor portrait relates to the nature of an individual's donation.
"A donor portrait will be hung in proximity to where the impact of their donation is felt," Vice-Chancellor Friedman said.
The mechanics of a donation, Vice-Chancellor Friedman says, are unique and highly individualized. It has no impact on the artistic rendering of the donor.
"The main concentration of decisions are really around what is inspiring and motivating someone to give, where they would like to see their investment made, what impact they're hoping to make as a result, and what level they'd like to do it at," Vice-Chancellor Friedman said.
Honorary portraits are usually those of current and former faculty members, as well as students. The portraits are commissioned in honor of the individual, following a donation named in their honor. This is the case for the portrait of Gerald Early, the Merle Kling Professor of Modern Letters.
THE EARLY CASE
Early arrived at Washington University in 1982 as an instructor in Black Studies, later becoming a tenured professor of English and African and African-American Studies. He has served in numerous roles at the University and is an award-winning essayist and anthologist. Early even has a star on the St. Louis Walk of Fame. Early is closely associated with the Department of African and African-American Studies, where he served as two-time director (when AFAS was still a program) and is currently the department chair.
As an undergraduate at the University of Pennsylvania, Early didn't give much consideration to portraits. He was simply focused on getting his education.
It wasn't until his own portrait was commissioned that he gave greater consideration to the significance of a portrait. A gift to the Olin Library's special collections led Early to be honored by a commissioned portrait. Initially, he said no.
"I saw it as an honor, but in some ways I also saw it a little bit as a burden," Early said. "Having your image up there like that it meant that you're representing yourself. You're representing the institution in some way. You're representing the minority presence in some way."
After much internal debate, Early eventually agreed to the portrait, which was unveiled in a ceremony on September 5, 2007.
"I knew that there weren't a lot portraits of black people on this campus," Early said. "In the end, of course, I did consent to it because I understood that being a minority and having my portrait done was important and that it would be important to other minority people here."
Sam Fox Associate Professor Jamie Adams was Early's portrait artist. He used Early's own writings about African-American history and boxing as an inspiration for how to compose the portrait.
"I was thinking to myself that, you know, Gerald is a fighter for justice. And his stage, though, is a very different one. It's not the boxing ring where he distinguishes himself. It's in academia. It's in writing," Adams said. "What I decided to do was to have Gerald portrayed in his office that in such a way that it sort of suggested that he was as a boxer between the rounds."
Early was instructed to sit on a stool in his office behind his desk, surrounded by his papers. Early's sleeves are rolled up "a little higher than usual," as if he were resting between the rounds, according to Adams.
For Adams, painting a portrait is more than just a compilation of sketches and hundreds of photographs. It is about developing a relationship between himself and his subject.
"I have to engage the subject through my own eyes, through my own means and understanding," Adams said. "I certainly reflect upon all the inputs that I'm given, but in the end, it's my interpretation."
The portrait still makes Early feel slightly uncomfortable, and to this day he avoids his portrait, located on the second floor of Olin Library.
"You don't want people to be thinking that you got a big ego and you're going there to see yourself and so forth. It's funny," Early said. "I do go over to the library fairly often, but I just don't ever go on that floor."
Early acknowledges that most students think that the individuals in portraits are deceased, and for the most part, he's correct. After walking out of Olin Library one day, a student stopped in his tracks, shocked to see Professor Early.
"I remember one time I was...coming to the library. I ran into a student coming the other way and he stopped and he said to me, 'You're alive!' And I just thought that was really funny," Early said.
LOOKING AHEAD
The question remains: How can we ensure that the walls of our University reflect both our institutional history and our future?
Recognizing donors is a proven way to achieve this. Honoring the individuals who have provided financial assistance and long-term support for the University is vital, according to Vice-Chancellor Friedman.
"What is it as an institution that we can do to prominently and visibly honor and recognize the fact that someone has given a lot of themselves? I see portraiture as one opportunity that we have as recognizing someone...and their generosity," Vice-Chancellor Friedman said.
Another way is to honor the "firsts," or the people who trailblazed a path for other individuals of color, of different national origin and of different gender identities to join the Washington University community.
Rudolph Clay, Head of Library Diversity Initiatives & Outreach at Olin Library, noted the Washington University Trailblazers, an initiative that recognizes the achievements of African-American faculty and staff through an annual awards ceremony. This commemoration has occurred for the past four years, according to Clay.
The Trailblazers, and other forms of recognition, are an important way of ensuring that these individuals are preserved in Washington University's institutional memory, according to Clay.
"After a while, once they leave, there's not a record of it except for people that remember," Clay said.
The School of Law recently began a promotional campaign highlighting gender diversity within the school. Banners hanging along walkways on the Danforth Campus feature the slogan "WashULaw: Admitting Women for 150 Years," a nod to Phoebe Couzins, the first female graduate of the University and one of the first women in the United States to graduate from a law school.
Washington University's numerous scholars programs provide additional examples of what this commemoration could look like. The McLeod, Rodriguez and Ervin Scholars Programs are prime examples of recognizing individuals from underrepresented backgrounds who made a large impact on the University.
James McLeod, former Dean and Vice Chancellor for Students, John B. Ervin, the first African American dean at the University and Washington University alumna Annika Rodriguez are all program namesakes.
Out of the three, McLeod is the only one to have a commissioned portrait on campus.
Professor Purdy acknowledged the importance that visual recognition carries in educational spaces.
"There's a variety of ways in which people get honored in universities," Purdy said. "Especially in the culture in which we live today, the visual seems to be very, very important."
Many of the institutional advancements in diversity have taken place within the last few decades, and portraits are usually commissioned in the later stages of an individual's career.
In her interview, Professor Friedman posed an important question.
"How in different spaces is the university crafting its relationship between its past and its present? And for what different audiences?" Professor Friedman said.
The answer? Photography.
The DUC and Olin Library are two primary examples of how photographs can be used to reflect the diversity of our University community. Professor Andrea Friedman herself is pictured alongside two of her former students, Reuben Forman and Jordan Victorian, in the corridor next to the Career Center.
In Olin, there are numerous recent photographs featuring students and alumni of diverse backgrounds, including Jasmine Brown and Camille Borders, the University's most recent Rhodes Scholars and a group of alumni who were a part of the 1968 Brookings Occupation.
Rudolph Clay, Head of Library Diversity Initiatives & Outreach at Olin Library, noted a recent push from the library's administration to feature more images of students. The library has added at least 14 new pictures of students.
"We were kind of looking at this with mainly within the library for more images of students of color," Clay said. "And [in] the library itself, there are, there's not an adequate representations of students of color. Actually, we didn't have that many student pictures at all. So one of the things we are slowly doing is trying to... make sure that when you're adding them that all students were represented."
At the time of the interview, Olin Library staff added 14 new images of students.