WU receives record number of applicants
Washington University received a record number of applicants for the class of 2021, with the final total coming in at more than 30,464 students who applied, Chancellor Mark Wrighton announced to the board of trustees Friday. The total number of applicants reflects a 4 percent increase from last year, which saw 29,197 applicants, and a 28 percent increase since 2008, with 22,005.
Within this group, the amount of African-American and Latinx applicants has increased by 10 and 13 percent, respectively. Since 2014, the University has doubled the percentage of African-American students in the freshmen class, with just five percent two years ago. This increase reflects the University's push to increase diversity over the next few years. Ronne Turner, vice provost of admissions and financial aid, said she believes that some of this can be attributed to community outreach programs.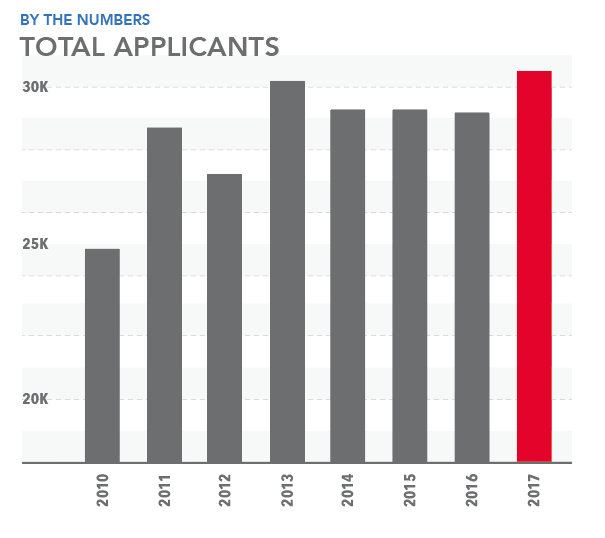 "We seem to have our African-American and our Latino student representation, but Native American seems to be not as strong," she said. "We've been working really hard to try to improve our outreach and communication to those underrepresented groups to tell them the Wash. U. story."
Director of Admissions Julie Shimabukuro said she has instituted a strategic push to engage community access groups since she came into the position through events like preview weekends.
"Whatever state we go to, we're trying to connect with community-based organizations and access groups to let them know about Wash. U., to seek the best students and make those connections. And so, we've been focusing on building those relationships," Shimabukuro said.
Additionally, 12 percent of the applicant pool was eligible for Pell Grants, a federal need-based grant for students who come from low-income backgrounds. While admissions officers must wait until May 1—the final college decision date—to calculate the percentage of eligible matriculants for the next incoming class, the current freshmen class has 13 percent Pell eligibility, which meets a target threshold set by University administration in January 2015. However, in order to for the administration to reach their final goal, the admitted freshman class must reflect a 13 percent or higher eligibility for three consecutive years.
"While we're trying to enroll more underrepresented students, we're not getting bigger. So, it's still a very selective process, and we're trying to admit the most well-prepared students that can be successful here," Turner said. "We anticipate that we'll be admitting more, but then students have the last say."
While outreach programs bring more students to the University, Shimabukuro said she believes that increasing diversity on campus acts as a self-sustaining machine: As more diverse groups come to campus and choose to study here, they make the community more conducive to further growth.
"[It] encourages other students to take another look and to connect with community members here to feel comfortable and to know that this is a place that's open to them and accepting and welcoming," Shimabukuro said.
Wrighton noted that the group is not only racially and socioeconomically more diverse but academically well-prepared.
"We have another very strong group academically, so we're optimistic that we'll be able to stay in business for another year," he said.
Pre-admissions programs like the College Prep Program, which brings local underserved students to campus for college preparation courses and summer programs, saw their first group graduate from high school, with four students receiving their acceptance letters to the University during the early decision round, and others waiting to hear back with the regular decision applicants.
Shimabukuro acknowledged that while the College Prep Program is small, it—and programs like it—add to the visibility of Washington University in local communities.
"The College Prep Program has done such good outreach locally to students to say that 'Wash. U. is accessible, and we're going to help you prepare to get there and be supportive along the way,'" Shimabukuro said. "Even though there are some younger students there, I think that message is out in the schools and the counseling community, and so I do think that exposure has helped us."
In addition to focused recruiting strategies, Turner noted the importance of the "Wash. U. story" as a persuasive factor to students.
"If you have the opportunity to help students understand how fabulous this place is and that it's an entire institutional goal and effort that has to come into play," Turner said. "The admissions office, we take the lead; we are the ones that are probably more externally facing, but when students come to campus they interact with our faculty, interact with our current students, they interact with our staff. I think that's what makes the difference."
In the future, the admissions office and University administration hope to continue the uptick in applications, both in general and by people of color, but noted that ultimately the power lies in the hands of accepted students to choose Washington University over other competitive schools.
"May 1, we'll be on pins and needles after we release decisions, doing everything we can to outreach to students so they take a second, third, fourth look at Wash. U., and hopefully more of those underrepresented students will choose us," Turner said.
Additional reporting by Bailey Winston