As summer study abroad programs are canceled, the future of fall study abroad remains unclear
The Department of Overseas Programs at Washington University is making day-by-day decisions as to whether fall 2020 study abroad programs will be able to continue as planned, in part due to if travel restrictions will be lifted in time.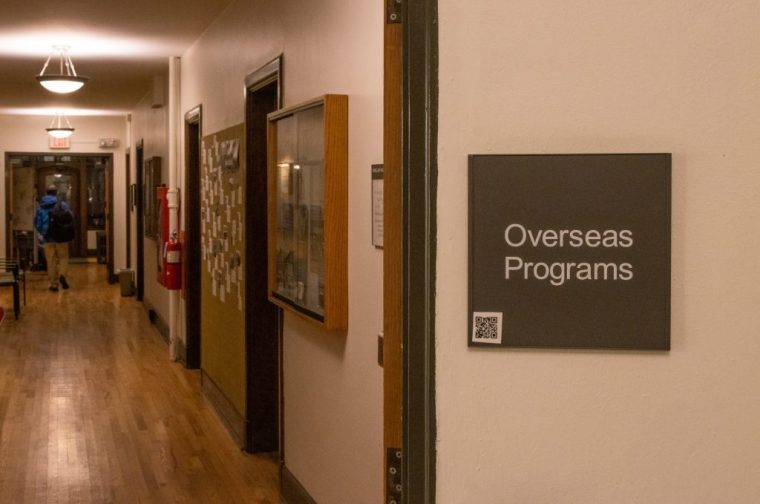 Photo by Curran Neenan
Currently, all of the University's faculty-led programs have been canceled for the summer and decisions about external programs run by partner universities are projected to be announced by April 30.
Although fall study abroad is not guaranteed at this point, Carrie Canham, the assistant director of Overseas Programs, said that the University is still preparing students for fall departure.
"We have a course students enroll in called Study Abroad 101 and we are continuing [that]. If students want to make this happen, we will do what we can to help," Canham said.
Due to the uncertainty surrounding the progression of COVID-19, students who plan to be abroad in the fall have been told to register for classes on campus that semester. Students have also been advised to postpone purchasing their airfare in the case that conditions do not improve and travel restrictions are not lifted.
Maria Schmeer, a sophomore majoring in Geology, planned to study abroad in Florence this summer and is currently planning to go abroad in the spring of 2021.
"Because of the coronavirus situation [in Italy], I expected that to not go through since a little before spring break," she said. "But I'm still hoping to go abroad this coming spring, and I haven't really thought much about how coronavirus will impact that."
In addition to future study abroad programs, students who were abroad for the spring 2020 semester faced a stressful time when they were abruptly ordered to return back to the United States. Izzy Trenholm, a junior who participated in the Arcadia program in London and was visiting Amsterdam at the time of the announcement, said that her trip was amazing until they were ordered home.
"The COVID-19 situation was pretty stressful, and no one really knew when they had to be home by or what exactly Trump meant by closing the borders," Trenholm said.
The University reimbursed Trenholm's flight back home, but did not refund her the money for her initial plane ticket for her May return or her airfare from Amsterdam to London.
"It was just confusing how quickly we had to return home and it was definitely stressful having to leave two days after finding out," Trenholm said.
University administration is continually following the orders implemented by the Department of State, the Centers for Disease Control and Prevention and the World Health Organization, and are ready to move forward if restrictions lighten up.
"There are meetings, almost daily, about current situations and travel restrictions," Canham said. "We want students to be able to have this experience, so we will do what we can and certainly as travel conditions are improved, we will be ready to go."