University updates weapons policy, clarifies reporting system
Administrators discuss motivations, enforcement and policy changes, importance of improving "clarity and transparency"
Chancellor Mark Wrighton announced an update to "clarify and streamline" regulations on the possession of weapons, explosives and fireworks on campus in an email sent to the University community Tuesday.
In the statement, Wrighton says that the policy prohibits the "use, possession, distribution, or storage of weapons, explosives, or fireworks by any person on any University-owned or controlled property and at any University-sponsored activity or event, regardless of location." This policy includes visitors and those with concealed carry permits.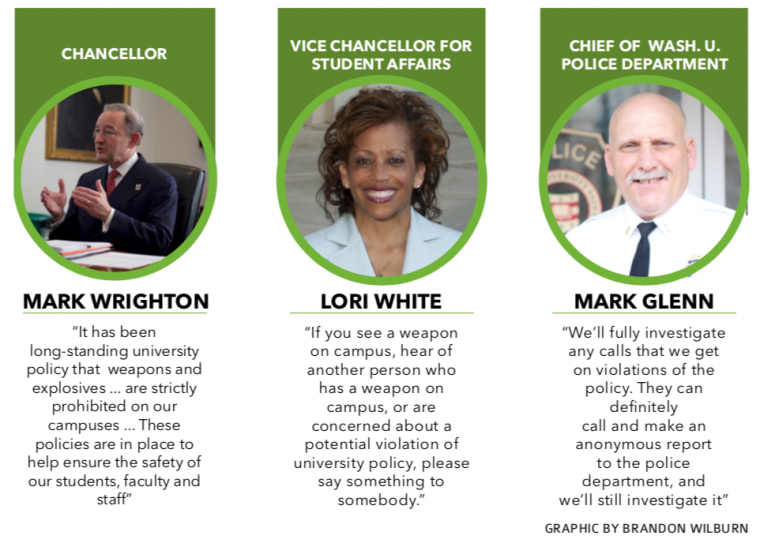 Graphic by Brandon Wilburn
Vice Chancellor for Public Affairs Jill Friedman believes that the update in the University policy serves two functions.
"As the Chancellor shared in his note last week, it is long-standing University policy that weapons are prohibited on our campuses and other University-owned property," Friedman wrote in an email to Student Life. "The policy update accomplishes two important things: First, it streamlines all existing departmental policies and guidelines into a single University policy that applies to all members of our community. Second, it clarifies how the University will take action if the policy is violated."
According to Friedman, the University refined its policies to improve their clarity and transparency.
"We made the update because, after taking a close look at existing sources of information, we found an opportunity to be more clear and consistent in the way we address this important issue," Friedman wrote.
The statement reaffirms exceptions for law enforcement agents, those who use these weapons as tools in the scope of their employment (such as the use of knives during food preparation) and in the case of educational programs or activities.
Additionally, if students or employees of Washington University are found to be in violation of this policy, they will be referred to the Human Resources or the Office of Student Conduct for disciplinary action. Potential consequences under the new policy include "immediate termination of employment or immediate expulsion as a student from the University. In addition, the University may refer violations for criminal prosecution."
A second email, sent by Vice Chancellor for Student Affairs Lori White, encourages students to report weapons violations to resident advisors, residential college directors or the police. White also recommends contacting the Washington University Police Department's Silent Witness Program to submit anonymous reports.
Firearms became central to campus discussion this Feb. after Washington University Police Department discovered guns belonging to a member of the Phi Delta Theta fraternity.
"A few weeks ago, we learned how important it is to keep lines of communication open," White wrote, "If you see a weapon on campus, hear of another person who has a weapon on campus, or are concerned about a potential violation of university policy, please say something to somebody."
According to WUPD Chief Mark Glenn, there are ways for students to submit anonymous tips both online and by phone to the police about any potential gun activity.
"We'll fully investigate any calls that we get on violations of the policy. They can definitely call and make an anonymous report to the police department, and we'll still investigate it," Glenn said. "Or they can go on to our [Silent Witness Program] web form and fill it out there from their phone or from their computer. And what that does is it sends an email to multiple people in the police department, and then we will investigate it right away. You do not have to leave your name or any information as part of that."
In her letter, White also cited the University's Residential Life contract.
"The University and Residential Life reserve the right to search any room or living space for purposes of enforcing any university rule or policy," White wrote.