'The Vagina Monologues' to take over Graham Chapel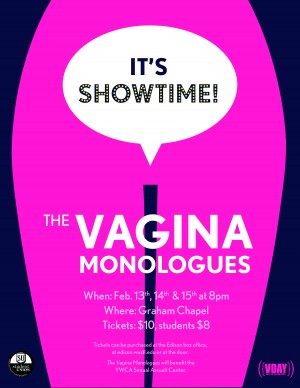 Handout
The women of Washington University speak out and give back this year by performing "The Vagina Monologues," an award-winning play written by Eve Ensler that focuses on the female experience.
"The Vagina Monologues" is a series of monologues that address everything from sex and love to rape and masturbation. This year, Wash. U. women take to Graham Chapel to perform these monologues in order to empower women everywhere. Directed by Wash. U. senior Deborah Sherman and produced by seniors Rachel Chung and Alaina Smith, "The Vagina Monologues" "celebrates women as they are—our bodies, our struggles, our triumphs and our strengths," Chung says.
The women who will be giving monologues this year come from all sorts of backgrounds and have different experiences in performing. For some, like senior Jordan Gamble, this is their first year participating in the monologues. After seeing "The Vagina Monologues" shows in high school and college, Gamble finally decided to audition this year. She will be performing the "Reclaiming C—" monologue, which focuses on a woman who seeks to reclaim the slur from its negative uses.
"I haven't really done any acting or theater-related activities, which is why I shied away from auditioning for so long. But it's my senior year, so I figured, hey, go big or go home," Gamble said.
Other women who are involved have participated in the monologues before. Co-producers Chung and Smith both gave monologues their freshman year at Wash. U., and Sherman gave a monologue in 2012.
This year, "The Vagina Monologues," put on by V-Day Wash U, benefits the YWCA St. Louis Regional Sexual Assault Center, which provides free crisis services to more than 1,000 victims of sexual assault in the St. Louis area annually. Aside from the cast of Wash. U. students, this year's production also includes a special performance from Christina Meneses, community education supervisor for the YWCA St. Louis Regional Sexual Assault Center.
"The Vagina Monologues" is also part of the One Billion Rising for Justice campaign, which is "a global call to women survivors of violence and those who love them to gather safely in community outside places where they are entitled to justice."
Chung said the campaign "calls for everyone in our community to rise against injustice. That's something we all must do together in order to end violence not only against women and girls, as V-Day's mission calls for, but against anyone and everyone."
"The Vagina Monologues" will be performed in Graham Chapel on Feb. 13, 14 and 15 at 8 p.m. Tickets are $8 for students and can be bought at the Edison Theatre box office, online at edison.wustl.edu or by phone at 314-935-6543.