Kishi Bashi's 'Omoiyari' contemplates identity, struggle and connection
In 1942, the United States government began rounding up people and detaining them purely due to their ethnicity. The internment of Japanese Americans was driven by fear, greed and a lack of empathy. Today those same forces are present in our society and the question that everyone—regardless of political ideology—is facing is what to do about it.
For musician Kishi Bashi, American society needs more omoiyari. Although there is no direct translation of omoiyari from Japanese to English, it is often roughly translated as "empathy." According to Kishi Bashi, however, the word is better characterized as "the idea of creating compassion towards other people by thinking about them."
It is the need for compassion that inspired the name of Kishi Bashi's latest project, "Omoiyari." "Omoiyari" is both an album that was released this past spring and a songfilm that will be released next year. He began working on it around the 75th anniversary of the attack on Pearl Harbor. Back in 2016, Kishi Bashi wanted to focus on the experience of the internees inside the United States's Japanese internment camps. However, over the course of the past few years that original idea has evolved into an exploration of minority identity, privilege and injustice.
"['Omoiyari'] started with the camps because that's what I was researching, and then I realized that it's more about minority identity and more complicated, nuanced issues. So, for example, 'Angeline,' that song that's about the lineage of mass incarceration, starting with Jim Crow era convict leasing." Kishi Bashi explained.
Convict leasing and mass incarceration are significant issues with dark histories and relevance today; "Angeline" was in part inspired by Ava DuVernay's 2016 documentary, "13th." When he began working on "Omoiyari," Kishi Bashi was primarily concerned with the rise of white supremacy, but now more direct connections exist between 1942 and the present.
As Kishi Bashi put it, "I saw more of the xenophobia that was being perpetuated. It was very similar [to Japanese internment] because of the migrant detention camps… I started seeing media parallels and the villainizing and demonizing [of] other people and being fearful of immigrants, that was directly a parallel."
And here is where omoiyari—the concept rather than the album—comes in. It's easy to get angry and yell at the person on the opposite side of the aisle, but that anger isn't productive. To foster a productive discourse, actual discourse is required.
"You have to understand that everybody has different perspectives and that you have to kind of compromise in order to have progressive ideas. You have to be sympathetic to other points of view and to other generations," Kishi Bashi explained. "And so I think the anger doesn't really help anything. That's like the whole thing. I realized pretty early on with how divisive things are today that you can be angry and you cannot convince somebody who already had their mindset another way. The only way you could convince them is through compassion and through connection."
Connection itself is a vital part of omoiyari; the first step in empathy is connection. As Kishi Bashi put it, "I just chose to tell stories that would help people connect."
The core of connection is seeing the person across from you as human. Dehumanization is a dangerous tool and was, in part, a reason behind Japanese internment. But those interned were no less human than anyone else. The human stories that arose from those living in the camps are what Kishi Bashi focuses on in the album.
"The act [of being interned] itself was humiliating, but they are just getting on with their lives. And if you look at photographs, by Ansel Adams, Dorothea Lange, they're all smiling in the photos. So, these are just people doing the best they can…And I think that's the kind of thing that really inspired me, they've moved on beyond this tragedy to become great people who have furthered society and culture. I tended to focus more on the human stories, like falling in love and loss and desire and things that are universal to help people understand that these are people just like you, just 75 years ago."
This focus on human stories is what unites "Omoiyari" as an album. While the album outgrew the original focus on the Japanese internment camps, the focus on humans is still central to the project. Not only does Kishi Bashi look at the minority experience of those in the past, he confronts his own identity as a Japanese-American throughout the album. The song "Theme from Jerome" is about an immigrant parent deciding whether or not to teach their child their native tongue. Without that language, the child loses a connection to their heritage. As a child of immigrants, the issue speaks directly to Kishi Bashi, who uses Japanese in many of his songs.
"[Japanese is] just a part of who I am," Kishi Bashi said while reflecting on "Theme from Jerome" and his own identity. "That song in particular is about also identifying with a new bi-cultural American identity, which I think is becoming more and more tolerated these days. Which is something that actually makes me kind of excited and hopeful for this country."
And in making this album and confronting his identity, Kishi Bashi has continued his own personal journey of growth. "Before [working on 'Omoiyari'] I didn't really confront my own minority identity that much…But the more I learned about it, I started to figure out that I was really changing rapidly," Kishi Bashi explained.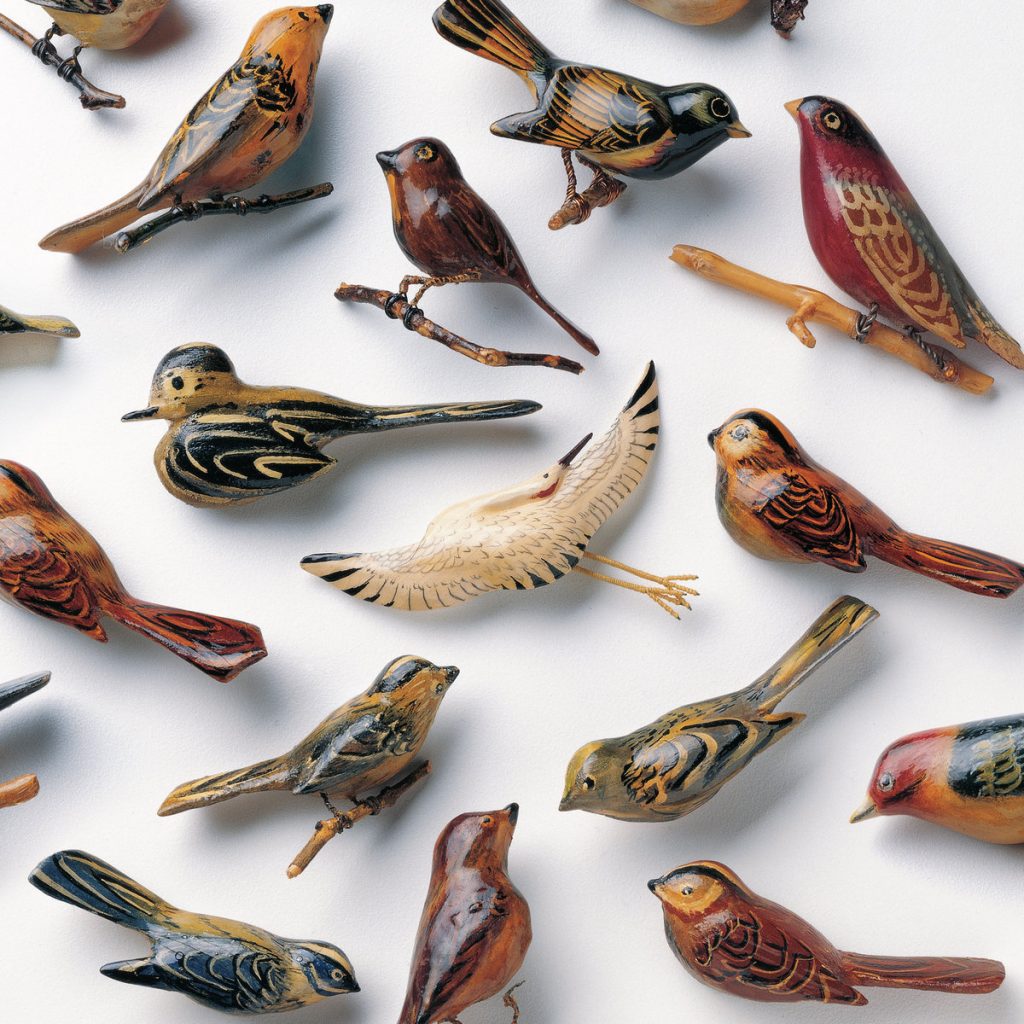 Even in the album's art, Kishi Bashi reflects on his identity while staying true to "Omoiyari's" message. The album cover is a photo of a collection of bird-shaped pins from the book, "The Art of Gaman," a book of art from Japanese internment camps. Alongside the literal connection to the album, Kishi Bashi saw himself in the art.
"I didn't want to be totally literal about it, so I found a good balance between art and the significance. The crane to me represents me, like as an Asian, my identity within a larger, Caucasian identity which are the other birds. So to me it was really symbolic…I thought it was a winner."
Not only did Kishi Bashi's idea of his own identity evolve over the course of creating "Omoiyari," his music has also evolved. While much of his previous music is based on loops, "Omoiyari" was created alongside a full band. The songs in "Omoiyari" are haunting and beautiful. While Kishi Bashi is capable of creating huge and incredible soundscapes by himself, it feels like there is more musical depth in this album compared to his previous ones.
Kishi Bashi's growth, both personally and professionally, is evident in the album, and the story behind this growth will be captured in the songfilm "Omoiyari." The film, which like the album originally focused on Japanese internment but grew in scope, is about Kishi Bashi's personal journey in creating the album and his evolving perspectives of race, identity and omoiyari in America.
The personal journey that brought about "Omoiyari" is an intense one of research and reflection. The themes of love and loss, injustice and perseverance, care and suffering are nearly universal. Without more omoiyari in society, the negative themes will continue to rear their heads.
Over 75 years after Japanese internment, the United States government is once again holding people who have committed no major crimes. The issues of police brutality, mass incarceration and generational poverty still plague many in our country. If we all face the world with more omoiyari, our problems will not solve themselves, but we may create an environment where these issues can more easily be solved and those in need can be better taken care of.
"Omoiyari" feels much more personal than a survey of injustice. The album is a collection of vivid stories that are tied together, united by the universal human experience. The themes of love, loss and desire appear in each song in some form. While the stories told in the album can sad and even cruel, the album doesn't leave you feeling hopeless. Life isn't hopeless, and the point of "Omoiyari" is not to bring you down with sad stories, but to raise you up by looking at how throughout these experiences, the characters remain human, remain themselves and retain hope.
Kishi Bashi will perform this Saturday at a sold out show at Delmar Hall.