Album review: 'Strangers,' by RAC
For fans of
St. Lucia, Phoenix, Vampire Weekend
Singles to download
'Let Go,' 'Tourist,' 'We Belong'
As electronic music becomes more respected and entrenched in the music establishment—and a remix has become much more than a simple reworking of a song—the genre is taking off as a hotbed for musical experimentation. RAC's new album, "Strangers," is evidence that electronic artists can create music that is more than just synth and bass but genuine artistry. RAC stands for Remix Artist Collective, although its only current member is Portugese artist Andre Allen Anjos, who also founded the group. Anjos provides a St. Louis connection to RAC as well; according to a profile in "The Riverfront Times," he went to nearby Greenville College. For its debut full-length album, RAC has moved away from remixes of popular songs by Lana Del Rey and Ellie Goulding to creating its own music, and proved just as successful, if not more.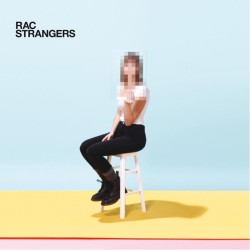 RAC brings its trademark upbeat, '80s-throwback sound to a number of different genres: "Hollywood," featuring electropop band Penguin Prison, sounds like it could be a hit single for The Strokes while "We Belong" is an epic six-minute orchestral electro ballad that lets Katie Herzig's waiflike voice carry the song to its beautiful climax. Unsurprisingly, the production and instrumentation are usually the stars of each song, which is an astounding achievement given the caliber of artists RAC is collaborating with for vocals. Violins, drum machines and synth all flow together impeccably, sometimes stealing the spotlight from Tegan and Sara, Tokyo Police Club and Alex Ebert from Edward Sharpe and the Magnetic Zeros.
Because RAC knows its sound so well, the album is seamless without becoming repetitive. The only missteps are brief interludes of experimental sound, which are interesting in a diverting sort of way but ultimately distract from experiencing the album as a whole. The best track on the album is easily its opener "Let Go," which was originally released back in August of 2013 but remains just as fresh on the album. The hook of "Let go, let go of your fire" is incredibly catchy while Kele Okereke of Bloc Party sings the verses with his honey-like, lightly accented voice. Perhaps "Let Go" can catch on as the indie song of the summer, much like Icona Pop's "I Love It" and Lana Del Rey's "Summertime Sadness" did far after their own release dates.
While the album has flown relatively under the radar despite the "Let Go" music video, amassing three-quarters of a million views on YouTube, music website Hype Machine streamed the album for a week before its April Fool's Day release date and many of the individual songs have hit number one on Hype Machine's rankings. Still, with songs as perfect for summer as "Let Go" and the Tokyo Police Club collaboration "Tourist," it's only a matter of time before RAC becomes known for more than just its remixes.