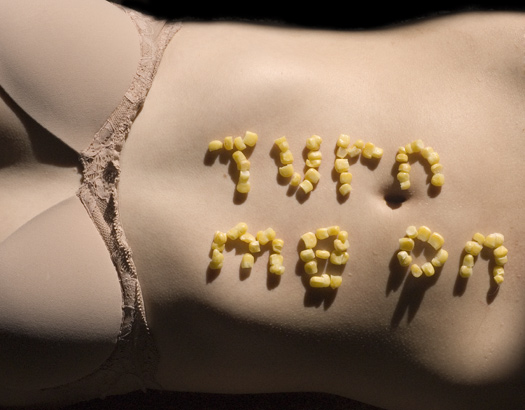 Scott Bressler
All photos by Lucy Moore
Chocolate sauce, a more processed form of the well-known aphrodisiac, can be used to enhance your sex life, or even move you toward, as Marvin Gaye put it, a "sexual healing."
Instead of the typical candy heart, try writing your love notes in the form of frozen corn. Actually, don't. But do be creative with food; it can be a fun way to turn on your partner.
When using whipped cream to adorn the stomach, make sure you take it out of the fridge first so its not too cold. While we choose to use it as an advertisement, you should use it to your advantage-lick it off seductively, or even hum and kiss it off, creating warm vibrations on your partner's tummy.
The greatest thing about intergrating foods like whipped cream and chocolate sauce into your intimate life: getting to eat it afterwards. Yum.
Watch out! While whipped cream is fun, it can get messy. Make sure, if you choose to dive inside the world of food+fun, that you prepare for its consequences.