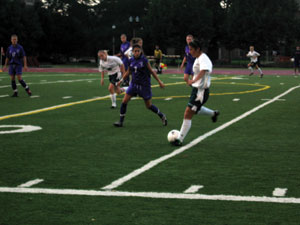 David Leonard
The Bears womens' soccer team scored five times en route to defeating host Principia College Tuesday night in Elsah, Ill.
Four freshman netted goals for the Bears who upped their record to 7-2 on the season after beating the Panthers who, with the loss, fell to 8-2. Sophomore Caitlin Malone had the other goal for Washington University.
Senior Sara Schroeder sent a pass across the box in the 13th minute to freshman Caryn Rosoff who headed home the first goal of the night for the Bears. Rosoff's goal gave her sole possession of the team lead for goals this year with five.
Freshman midfielder Paula Davis added a goal right before halftime to put the Bears up 3-0. The goal for Davis was the first of her career.
After the break, Schroeder picked up her second assist of the evening on a pass to freshman Becca Heymann. Carter Schwarberg, also a freshman, rounded out the scoring for the Bears in the 76th minute on an assist from freshman classmate Cassie Scaman.
The Panthers' lone goal came in the 66th minute when Principia's Christina Day beat goalkeeper Amanda Boe.
This marks the fourth time this season the lady Bears have scored five goals in a game. They have allowed only five goals all season.
Carrie Sear was the winning goalkeeper for Wash. U., playing 65 minutes and recording four saves while not allowing a goal. Her goals-against average dropped to .42 on the year.
UAA Conference play begins Saturday, when the women will host Emory, who comes to town with a 5-2 record. Game time is set for 11:30 a.m.