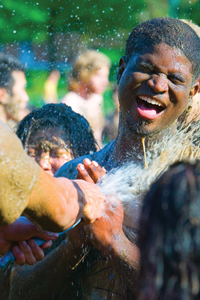 Scott Bressler
Diwali
Before this epic cultural event, a line of RAs and other students in sleeping bags will plug up the Mallinckrodt hallways. Dancers, actors, and crew members give their lives for weeks to the wildly popular show in Edison theater hosted by Ashoka, the South Asian Students Association. Their work does pay off; students expertly perform a wide array of Asian dances and a skit with a lesson about Asian-American life. My advice: if you want to see it, get tickets early. This is a good time to take advantage of your RAs.
Vertigo
Three guesses: who are the greatest partiers on campus? Would you guess the engineers? Well, you should. With their lighted dance floor and their great DJs, this is one of the most popular parties of the year. I can't get any more specific than that. My advice: see it for yourself. Otherwise you won't believe it.
W.I.L.D.
Anyone can walk in someplace. You can walk into class. You can walk into your room. But how many places can you walk in AND lay down? Well, your room is one.but still, the twice-yearly W.I.L.D. concert is a completely unique experience. A crazy, excited mass of kids gathers to listen, jump around uncontrollably, and be, well, W.I.L.D. Past headliners have included George Clinton, OK Go, Guster, Ben Folds and Outkast. My advice: To get the most out of W.I.L.D. forget, for a second, that you have any sort of a reputation to maintain.
2:59 a.m. at Bear's Den
Okay, so this isn't really an official event. And technically, nothing happens at exactly 2:59 that doesn't happen at 2:58 or earlier. But something does happen at 3 a.m. every Saturday and Sunday which is important to all students: Bear's Den closes for the night. And something else important happens one minute later: you will get hungry. Thus the forward-thinking residents of the South 40 grab their last-minute quesadillas after their night on the town. My advice: definitely do this. Food always tastes better late at night.
Holi
So you've slogged through a whole year of college. You're thinking about exams. It's spontaneously hot outside. And you want nothing more than to smack that annoying kid on your floor with a water balloon. Can Ashoka, the South Asian Students Association, help? Of course! In mid-April, the group prepares 20,000 short-lived water balloons for this sloppy free-for-all on the swamp. My advice: take advantage of the mud. Your Holi success is judged by how indistinguishable your friends are.