Diversity and dating: Religion, race and relationships create mixed feelings
Print This Post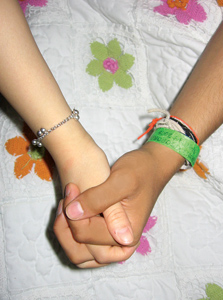 Matt Rubin
Like many of the nation's top colleges, Washington University is a fairly liberal school and one that advertises a racially diverse student body. Click on the "Diversity Initiatives" link on the University homepage and you'll find an excerpt from the Mission Statement announcing the goal of creating a diverse campus with "bold, independent, creative thinkers."
So you might think that students attracted to such a campus would share an open attitude toward interracial relationships, but interviews with students show that there is still a pervasive discomfort with the notion of interracial dating, sometimes coupled with a conscious decision to date only those of the same race.
"Being a student [at Wash. U.] has actually made me more averse to having an interracial relationship," said Sarah Diouf, a junior and a self-identified member of the black community here.
Diouf explained that at her predominantly white high school, there were so few black students that self-segregation was hardly possible.
"But at Wash. U., sometimes I feel like the black community is a separate school," said Diouf. "I wouldn't even know how to go about meeting a guy in a romantic way that wasn't black."
Diouf said that she would date interracially if her partner were able to understand and relate to her, but she doesn't think someone who is not black would be capable of doing that.
"Sympathy is not enough," she said. "Race affects your life experiences. A guy has to be able to understand my issues."
For freshman Amar Patel, a devout Hindu of Gujarati heritage, the decision to date within his race is tied closely to family and religion. Although Patel said he could be open to dating interracially in college, he said he would not get into a serious interracial or interfaith relationship because he wants to marry a girl whose family is like his.
"My father has told me that marriage is the joining of two families, not just two people," said Patel. "If I married someone who wasn't Gujarati, it would be a culture shock for that person. There are things they wouldn't understand about my family."
Patel added that he feels having a dual identity could be confusing for his children, particularly if they felt they had to choose between their Gujarati heritage and another.
Omar Arnaout, a senior from Jordan who has been dating a junior from Venezuela since last semester, presented a different point of view.
"Race was never a problem with us," Arnaout said. "If anything, the fact that I'm Jordanian and she's Venezuelan was kind of a novelty. If we got married, our kids would learn about five different languages, which would be really interesting."
Arnaout explained that he has experienced racism many times in the United States – particularly in airports – and has learned to ignore it. But an incident last semester brought up the notion of race in a powerful way, this time in the context of his interracial relationship.
"I was at a bar with a close friend from Wash. U. last semester, and he said to me, 'Isn't it weird hooking up with a girl who's not white?'" related Arnaout. "I was shocked."
Arnaout's friend went on to say that he had tried hooking up with a black girl but that the difference in skin color "freaked him out," adding that he could never go out with a black girl.
"This just came out of nowhere," said Arnaout. "If a random person says something like that, you don't care. It's when a close friend says it that it really hurts."
Other interracial couples on campus say they've never experienced any negative feedback about their relationships. Junior Stewart Wolfe, who is half Vietnamese and half white, has been dating a Caucasian student for the past four months. Wolfe said that he and his girlfriend have always been accepted among their peers and families.
"I'm not really part of a specific racial community, and I think that's important," said Wolfe. "It would be different if all my friends were Asian. Sometimes we've talked about how we're not like the typical media poster-couple because we look different, but it's never a problem."
Wolfe said his parents were comfortable with him dating a white girl. When asked if they would respond differently if he were dating a black girl, however, he said, "Absolutely."
Others attest to this common dichotomy. This past Thursday, the Association of Mixed Students hosted a workshop on interracial dating where students were invited to discuss the issues they've experienced on campus and elsewhere. The main speaker and discussion leader, Wellesley graduate Jen Chau, co-founded a diversity training firm called New Demographic. Chau explained that some races are more closely linked than others; Hispanics and Blacks have some stereotypes in common, as do Whites and Asians, making the perceived divide wider between Blacks and Whites than it is between Blacks and Hispanics, for example. Chau, who is half-Chinese and half-Jewish, noted that religion adds yet another dimension to interracial dating.
"Interracial dating is more complex than higher mathematics," said freshman Alwyn Loh at the workshop. "My friend is Jewish and he's been dating someone who's black. They are such a fantastic couple. But there are people on campus who believe very strongly that Jewish people should only date other Jewish people. They get a lot of that." Loh said the couple has not yet told their families about the relationship.
A half-Japanese, half-Jewish student at the workshop, who wished to remain anonymous, said she has met many Jewish students on campus who will only date and marry other Jews – and only white Jews.
"I'm a reformed Jew, and we're not as strict about the definition of who can be a Jew and who can't," she said. "But at Wash. U., I've seen a lot of Jewish purism."
It seems that Wash. U. students are eager to self-identify as open to interracial relationships, but may not be so open in practice. Chau said this was not a surprise to her; though she said interracial dating is on the rise at campuses in the United States, Chau noted that many interracial couples still face conflicts.
"The main fear is that the culture or religion will be diluted [if people date or marry interracially]," said Chau during the workshop. "I don't think you can blame people for wanting to be with someone of their own kind, but it becomes problematic if there's a sense of exclusion."
Popularity: 1% [?]
Related Posts
Print This Post