Engineering faculty petition for Dean Sansalone's removal
Print This Post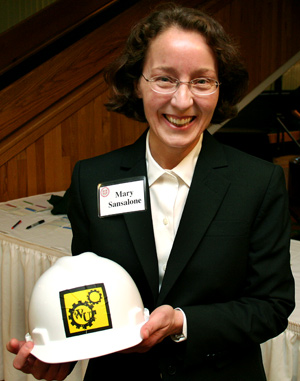 Student Life Archives
Correction appended below
Just over a year into her tenure, engineering dean Mary Sansalone has come under fire for the methods she used in implementing several controversial changes in the School.
Many faculty members have expressed concern about an e-mail from Dean Sansalone that appears to suggest a policy whereby students from South Korean private schools would not be admitted to the School of Engineering and Applied Science.
In an e-mail to Student Life, Sansalone stressed that the remarks had been taken out of context from "a broader discussion about the School of Engineering wanting its financial aid given to students who most need financial assistance."
In reaction to the lack of consultation with faculty over significant changes to the School and over the controversial e-mail, tenured professors in the School circulated a petition calling for Sansalone's removal and presented it to Chancellor Mark Wrighton in August.
"Even before the review committee was convened, I met with Dean Sansalone to review the e-mails and background behind them," wrote Chancellor Wrighton in an e-mail to Student Life. "Dean Sansalone apologized for the unfortunate impression created by the e-mails."
Of 66 tenured engineering faculty members, 29 signed the petition and an additional 14 expressed their support verbally, according to sources within the School of Engineering and Applied Science.
In addition, 10 senior and retired faculty signed the petition and three others expressed verbal support.
Upon receiving the petition, the Chancellor convened a committee of three faculty members outside the engineering school to review the faculty's concerns and Sansalone's performance.
The committee, which was made aware of Sansalone's e-mails, supported her and the Chancellor affirmed its conclusions.
"With any new person working to create or bring reality to a new vision, changes occur, and for some, that's difficult," said Chancellor Wrighton. "The pace of change, the nature of change has caused some people to be concerned in some sectors."
The rift with faculty and students has been compounded by a perceived lack of communication over changes to the School and by the perception that Dean Sansalone's actions are unilateral.
"The environment is one of terror, everyone is scared," said Bia Henriques, a graduate student. "Staff and professors don't know when they are going to come in and not have their position available anymore, which has happened in the past."
Sansalone defended the changes she made, citing the need for reforms to achieve the engineering school's strategic plan.
"When I came to the school there were a number of key challenges that needed to be addressed fairly quickly-some real financial challenges, some issues around accreditation," said Sansalone. "This isn't to excuse lack of communication, but sometimes it wasn't all that easy to communicate all the details."
Student Discontent
Students at all levels of the school of engineering have expressed frustration at the lack of effective communication between the administration and the rest of the school regarding policy changes.
Many of Sansalone's biggest changes were implemented and announced before significant feedback could be received.
In many cases, contradictory rumors developed regarding the planned reforms and were widely circulated until one or another was confirmed by the Dean in a formal announcement.
"I don't think there is a problem with the plan. I think the faculty and the students really do support the vision of the dean," said Sean Mueller, a graduate student in chemical engineering. "We realize that changes are going to occur, but the way that the changes have occurred hasn't been acceptable."
Sansalone meets with members of the student body and the administration in multiple forums including Dean's meetings, formal events and dinners with freshman engineers.
"Bringing about opportunities for people to work across disciplinary lines and taking a fresh look at how we are organized is a refreshing undertaking," said Chancellor Wrighton. "But [it is] unsettling to people involved in a traditional academic organization."
To some, however, dinners, lunches and dean's forums do not sufficiently address the needs for communication about the reforms.
"She does attempt to have town hall meetings, she does superficially stage these opportunities to speak," said a student who asked to remain anonymous because of the potential for academic retribution. "But, they are very often on short notice and a lot of them are scripted."
Many students stressed the negative effects that the Sansalone administration's unpredictability has had upon their education.
"To be perfectly honest, I'm not sure things can be fixed in this administration," said Cheng. "I think there has been such a breach of trust between the dean and the student body; that it may not be a gap that you can bridge."
A History of Controversy
Prior to her tenure at the University, Sansalone worked as an administrator at a number of well-known schools, including New York University and Cornell University.
Sansalone's service at Cornell was marked by debate and controversy because of her role in the creation of a for-profit distance learning operation in 2000 which was opposed by a significant number of faculty members.
Dean Sansalone declined to comment on the debate caused by this proposal, called eCornell.
While at Cornell, Sansalone served as both the chief academic officer of the venture known as eCornell and as vice provost.
At the time, faculty expressed concern about the climate in which proposed changes were discussed.
"Since you have not created an opportunity for faculty to engage in a meaningful discussion of your proposal, it is surely far too early for you to conclude that only a small number of faculty are opposed to it," wrote Cornell professor of government Anna Marie Smith in an open letter dated March 4, 2000. "I for one am strongly opposed, [.] and many of us cannot attend these [faculty senate] meetings on such short notice," wrote Smith.
Planning for Excellence
Since arriving on campus in July 2006, Sansalone has unveiled a number of controversial changes, including the merging of multiple departments and the elimination of several faculty positions.
"In general, I think that no matter what department you are in there is a sense of uncertainty," said Henriques. "And that's really hard, coming to school every day when you don't know what's going to happen because of the lack of communication."
Some significant changes included the elimination of the undergraduate Aerospace Engineering major-a program that distinguished the University from other schools of engineering; the merging of three academic departments into the Department of Mechanical, Aerospace and Structural Engineering; and the elimination of a number of positions, specifically among junior administrators-many of whom had a long history with the school.
These changes were part of the "Plan for Excellence" formally announced in January 2007.
"The strategic plan is the collective wisdom of the whole based on where we see opportunities going forward," said Sansalone. "It focuses on intellectual ideas that cut across departments and that cut across schools to build for the future."
Elements of the plan focus on responding to the perceived challenges that the future will bring; specifically, there are a number of tenets within the program that highlight the need to provide abundant energy resources that are not cost prohibitive or destructive to the environment.
While each of the five schools within the University has undergone a similar process in recent years, only in the school of engineering has there been such a significant backlash.
"The School of Engineering started in a different place than most of the other schools," said Wrighton. "The school has been financially challenged, which causes the need to take a look at everything that we're doing and ask, 'Does it need to continue? Or continue in that way at that scale?'"
According to Sansalone, between 50 and 60 percent of the changes that were implemented at the start of her tenure were in reaction to that financial imperative.
The bulk of the substantive changes to the curriculum, however, were designed to enhance the school's interdisciplinary nature.
"The plan focuses on intellectual ideas that cut across departments and that cut across schools," said Sansalone. "We are a small school of engineering and we feel that it is important to maximize our size through cooperation across departments and schools."
—
11/19-An article in last Wednesday's issue about the engineering school "Engineering faculty petition for Dean Sansalone's removal") incorrectly stated that Dean Sansalone had eliminated the School's dual-degree program. In fact, the program has not been eliminated and remains an active part of the school.
Print This Post