One year later, Emory rivalry unnoticed
Print This Post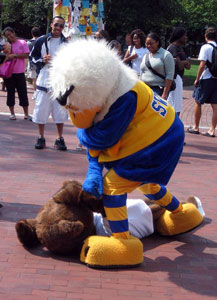 COURTESY OF JEFF ADER
An engineered rivalry between Washington University and Emory University has burned out soon after it ignited. Just a year after students from Emory University in Atlanta, Ga. vandalized the Washington University campus in attempt to begin a rivalry, little remains except a few memories of the incident.
"I think people got over it really quickly; better things to focus on," said Emory sophomore Diana Zelkovich.
The rivalry began when the War Department, an Emory student government entity, sprayed graffiti on the University overpass with provoking slogans including: "Wash. U. girls are ugly" and "George Washington is dead. Emory owns you." The department also planted fliers throughout their own campus with phrases such as "Die Emory Die! Go Wash. U.," to galvanize their own student body.
These days, the War Department now works under the name "The Department," after a war veteran complained to the Emory student council about the use of the term war. The name change has made the organization less visible on campus, and as a result, the manufactued rivalry has been a failure in the opinions of many Emory students.
"I haven't received any e-mails this year about it," said Zelkovich.
Erica Breese, co-leader of the Department along with Jeff Ader, disagrees. While most of the groups' leaders graduated last year, Breese said the group still shows promise.
"We definitely feel that we have the same amount of students involved," said Breese. "We are getting a lot of the freshmen involved."
Looking again to last year, many Emory students were unaware of the War Department's existence on their campus and were just as surprised as their rivals to discover their campus had been vandalized the morning of Sept. 17, 2005.
"My first reaction was to think to myself, must have been a crazy night on frat row," said sophomore Peddy Brown, who attended meetings for the War Department. "Then when I realized what happened, I thought it was kind of funny."
According to Brown, it was difficult not to feel embarrassed when he learned the Department of War was responsible for the vandalization of both college campuses.
"When I heard it was Emory I thought that it was a sad attempt to boost school spirit for a non-existent athletic program," said Brown.
Modeled after the University's Red Alert program, the Department of War at Emory was founded in the spring of 2005. The original purpose was to begin a rivalry between Emory and Washington University.
Breese noted that the name change had no effect on the actual organization. They still plan to carry on their efforts this year.
"We're not doing anything different this year," said Breese. "The rivalry lives on."
Print This Post